September 8th, 2014
What Moves You: The 2014 South Napa Valley Earthquake
"Movement: an act of changing physical location or position or of having this changed"
I have been exposed to substantial movement lately. As most are aware, early in the morning of Sunday, August 24 a 6.1 magnitude earthquake jolted Napa Valley from its pre-dawn slumber; the largest earthquake in Northern California in 25 years with the southern end of Napa Valley at the epicenter. The quaint downtown area of Napa sustained major damage with shocks of destruction to outlying hotels, grocery stores, homes, schools, and wineries. Some of the damage inflicted was to buildings with construction dating to pre gold rush era while others were newer buildings with modern architecture and aesthetics. The quake's movement was quick and destructive as it ripped through this otherwise sleepy valley. Fortunately, there were no human casualties, and the injuries, although numerous, were not life-threatening. My husband and I were in Napa in the rural northeast end at the base of Mt George near Coombsville, a bit removed from the hardest hit areas but we knew ….this was a big one
Fortunately, our fragile belongings were safely sequestered up-valley just 2 days before the quake (!) we had packed several storage and moving boxes and relocated them to our new residence in St Helena. The northern part of the valley shook and rattled but the quake did not have the ferocity it exacted upon Napa. Back in Napa, we were safe, the cats were a bit freaked out but unharmed and our belongings were secure in their new hillside abode.
As a native Californian, I am no stranger to earthquakes but this one hit me in a peculiar way, this earthquake was symbolic. I was physically and emotionally drained from weeks of packing, moving, and organizing. This movement sent tremors of emotion and exhaustion, the aftershocks seemed relentless from weeks and days of sorting through old photos and memorabilia. These aftershocks triggered moments of reminiscence and nostalgia; earthquakes to my soul.
Along with long-forgotten mementos, I also found a few heavily guarded bottles of wine, treasures tucked away for the perfect moment. Buried far within the wine cooler I glimpsed a familiar red wax, yes, I had to dig deep for this gem. I began at Castello di Amorosa in the spring of 2008 and on one record-breaking extraordinarily challenging day we were all rewarded with a bottle of wine of our choosing…any bottle. I selected a 2006 Il Barone and tucked it away for a rainy day. Obviously, I had forgotten it. I recalled this cabernet from it its youth; firm, young, chewy tannins but intensely cloaked with hidden layers of brooding black fruit not quite ready to reveal. The rainy day had come and gone but for this bottle, 'no day but today'.
Movement. It is moving.
To celebrate our big move and to honor the recent big movement of Napa Valley I opened the rediscovered 2006 Il Barone. My husband and I sat on our deck overlooking the hills of St. Helena, we raised a glass to all we had accomplished and the movement sure to come.
It moved me.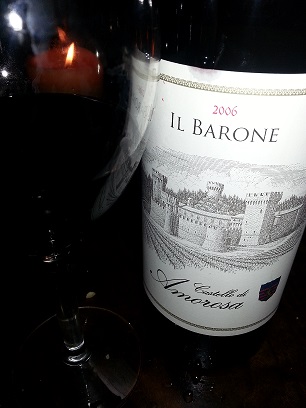 The 2006 Il Barone has moved gracefully into a polished and plush Cabernet reminiscent of the balanced beauties of Napa Valley's 1990s. With notes of ripe red berries and hints of smoke and leather, this wine has more to reveal in the coming years.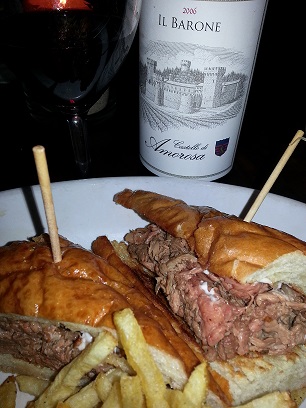 We finished the bottle at one of our favorite Napa Valley no corkage restaurants. A prime rib french dip with a bit of creamy horseradish and a side of fries was all this Cabernet needed to move us!
Mary Davidek C. S., S.W.