Grasping Gewürztraminer
Gewürztraminer, misunderstood and often mispronounced, how did such a unique grape come to be so abundant in modern winemaking and in such diverse regions?
First of all to understand the grape we must dissect the name itself. The German language can be quite redundant, often running a number of words together to create one word. For a glimpse into this as well as a little fun, try this link– Click Here
(Imagine if Barbara served this with Barbera!)
To complicate this further and make matters even more confusing, Gewürztraminer is actually Italian!
To explain:
Near the tip of the Adige Valley on the shores of Lake Balzano, lies the town of Termeno aka Tramin. Since the area is only a few miles from the Austrian border, and the land has been occupied by Austria several times (pick a war, any war), the town is called Tramin in German. In fact every mountain, river, street, town or other landmark is named in Italian AND German and because of this cross-culture the denizens of this region are bilingual. To translate:
The name of the town is Tramin…
"er" means from in German…
"gewürz" is German for "spice"
There you have it… "the spiced grape from Tramin"
GEWÜRZTRAMINER (guh-VURTS-trah-mee-ner)
To clarify; a German word for an Italian grape grown in Austria, I mean Italy! This is confusing.
Enough with geography– let's talk wine.
Gewürztraminer is known for its crisp pear and apple notes, spicy attributes, intense fragrance and distinct color. Gewürztraminer is commonly associated with sweet wine, however, Gewürz is made in different styles depending on the level of ripeness at harvest .When picked late in the season like Castello's Late Harvest Gewürztraminer this wine displays honey-apple with succulent peach nectar-like qualities. Perfect with a not too sweet desert or a cheese course…or combined into one grand finale.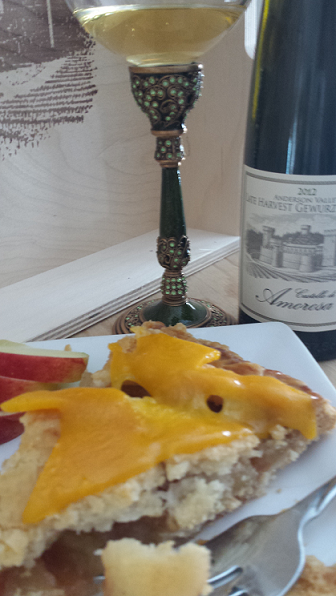 Keep it a bit savory with this sweetie. Remember, apple pie without the cheese is like a kiss without a squeeze.
An off dry or slightly sweet Gewürztraminer like Dolcino is harvested at normal sugar levels and fermented to leave a bit of residual sugar. This is my choice for pairing with spicy main dishes like Andouille Sausage Jambalaya.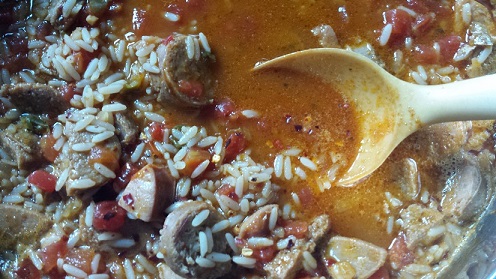 The classic dry Gewürztraminer may be the most versatile and my personal favorite. This wine displays ginger, crisp stone fruits and a tell-tale hint of lychee. Mix it up a bit with this mixed up wine, rich and hearty Italian dishes with savory basil and lemon in a light cream sauce are contrasted perfectly with classic dry Gewürz. Farfalle pasta catches all of the goodness in each and every bite… with a sip of Gerwürz….das schmeckt gut. Or is it delizioso?…well, in any language–yum!