August 18th, 2014
Desperately Seeking
Inspiration.
This is the time of year when writing a food and wine blog becomes a challenging task to complete rather than an opportunity for relaxed easy banter I usually tackle with enthusiasm. The weather is still quite warm but the nights now bring the crispness of autumn. Excitement for the fresh lighter fare of summer has given way to the anticipation of comforting fall favorites. Maybe it's the angle of the late summer sun or the knowing that harvest is rapidly approaching. Labor Day is days away, summer is rounding third.
Suddenly– a change of season.
My creativity is obviously on a late summer vacation and my vapid thoughts are in need of inspiration.
So, I went to the grocery store and wandered the aisles….searching. How to bridge this canyon of bland? This growing crevasse of food and wine apathy. The space between. The blah. The doldrums.
Then, I saw it. A warm halo of light illuminating its golden perfection; a roasted chicken.
(Maybe the 'warm halo of illuminating light' was actually a warming oven?)
Few foods can adapt to the season…or to wine… quite like a roast chicken; a winged chameleon of flavor. Season with sea salt, black pepper and a touch of lemon juice. Refrigerate this bird for a few quick meals on the fly and serve with summer veggies and a cool crisp Pinot grigio. Added win–leftovers make yummy soft tacos!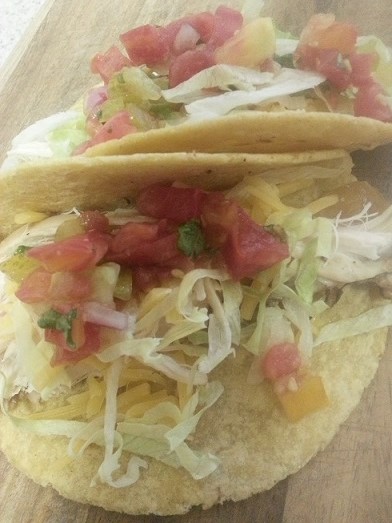 Let's beef this chicken up. Root vegetables are a perfect hearty addition. Rub a touch garlic and rosemary to the skin of this bird. Cover with foil and pop in the oven for 10-15 minutes and serve with roasted potatoes. Pinot Noir and roast chicken is a time honored classic and nothing short of inspiring!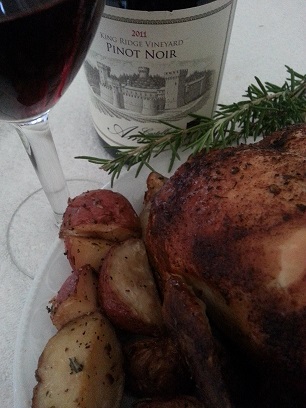 Mary Davidek C. S., S.W.