Silence of the lams shanks
In all honesty, Halloween has never been my favorite holiday. I don't have a sweet tooth, I never liked to dress in costumes and fright movies terrify me. With three older brothers I was often the victim of pranks and shenanigans and I am quite certain my irrational fear of monkeys and primates can be traced to the mischief my brothers concocted which turned grade school trips to the zoo into angst ridden rituals. The only aspect of Halloween I truly warmed to was the fact that traditionally Halloween marks the beginning of the holiday season. Fall and winter vegetables replace summer fruits and the conspicuous cornucopia of harvest prevails. Bring out the blankets and smell the spices wafting in the chilled autumn air.
I know, I know… it's Halloween and fright-night festivities may be on the agenda; perhaps not a trick-or-treat outing but maybe a cozy dinner party with a few friends followed by a few favorite movies. And just because it's a holiday spotlighting pumpkins and candy corn does not mean we should throw thoughts of food and wine pairing to the jack-o-lantern! Take a cue from one of the most ominous and frightening movie monsters in history, move over Freddy and Jason—Hannibal Lecter gets my vote for Halloween's classic scary movie poster- boy! Hannibal is creepy, petrifying and unnervingly disturbing and yet even while shackled in chains and full facial restraint he maintained a pompous arrogance. This notorious villain has one quality I can't fault; he certainly cared about pairing his meals with the correct wine! *ahem* Plus, he obviously loves vino Italiano which makes Hannibal Lecter Castello di Amorosa's gruesomely detestable official "Fright Knight'.
Savor this Halloween with a delicious and super easy comforting classic — replete with fava beans and a nice Chianti…. (Sangiovese, of course!) Pop in a DVD and enjoy…..
Silence of the Lamb Shanks!
---
♦ Easy Crock Pot Lamb Shanks
Brown Lamb Shanks in grapeseed oil in large pan
Season generously with Salt and Pepper
Place browned shanks into crock pot and top with the following:
1/2 C red wine
1/2 C beef stock
1 can (14 oz) Italian style diced tomatoes
1 tsp Italian Seasoning
8-10 cloves of diced garlic
4 large sliced mushrooms
1 TBSP Worcestershire
1 sweet onion cut into large slices
Place crock pot on low 6 -8 hours, remove shanks and plate with sauce and vegetables
---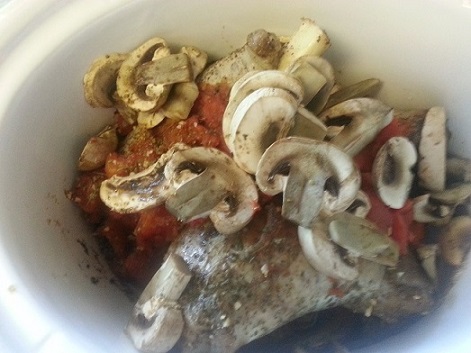 Mushrooms, tomatoes, garlic, broth and red wine create a delicious sauce.


Sangiovese, the primary grape grown in the Chianti region of Tuscany, is a very important varietal at Castello di Amorosa. Sangiovese also provides a spine of bright red cherry in blends like Il Brigante and La Castellana.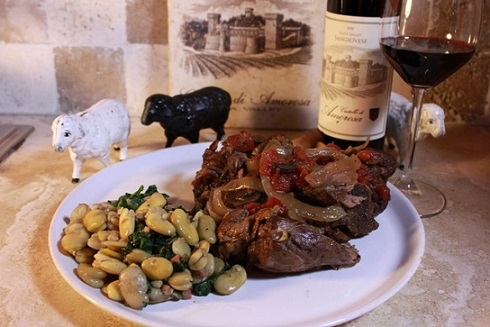 The Silence of the Lamb Shanks, fava beans, and a nice 'Chianti' in true Castello style!
Happy Halloween!