How to Ferment Wine: Our Red Wine Oak Barrel Fermentation Process
During the Harvest season, there are always exciting things going on around the Castello, and today on the Crush Pad was no exception. Today, for the first time at the Castello, our winemaking team reserved a small lot of our Don Thomas Vineyard Cabernet Sauvignon for fermentation directly in French Oak Barrels.
Traditionally, the fermentation process takes place in stainless steel tanks, where the must (skins and seeds of the grapes) are cold-soaked with the juice before yeast is added. The cap, or layer of skins and seeds that get pushed to the top of the tanks from the activity taking place during fermentation, is broken up by either the punch-down or pump-over method, both of which ensure an even distribution of the color and flavors we wish to impart into our red wines. After five to eight days in these fermentation tanks, the juice is pressed from the skins and seeds and pumped into French Oak barrels for aging in the Castello's extensive underground cave and cellar system.
What is barrel fermentation? Barrel fermentation means that the freshly destemmed grapes and their juices are pumped directly into French Oak barrels whose heads have been removed. Dry ice is added to cool the berries before the barrel heads are secured to seal in the must. The barrels are then laid on a rack that allows them to be rolled back and forth daily to ensure the cap stays moist and the oak is evenly introduced to the fermenting must and juice. Typically, two full barrels of must and juice will amount to one barrel of wine. The process of fermenting the juice in oak barrels helps to impart an added silkiness to the tannins and a rounder, more lush mouthfeel, especially to Bordeaux varietals. This extremely labor-intensive method of fermentation is typically reserved for only the most exclusive of wines, and the highly-acclaimed Cabernet Sauvignon from the Don Thomas Vineyard is an exceptional example of the quality of grapes deserving of such treatment.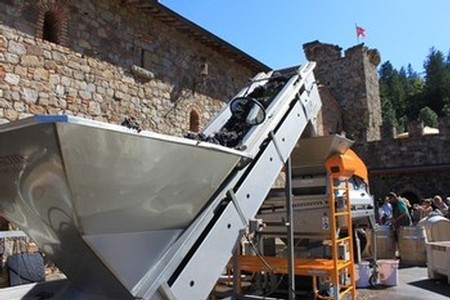 The Don Thomas Cabernet Sauvinon clusters are conveyed into the berry sorter/ destemmer as a lucky tour group watches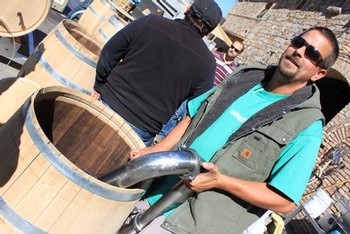 The new French Oak barrels are filled directly from the destemmer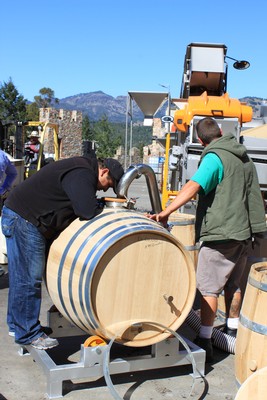 Our Cellar Supervisor, Chema, overseeing the juice and must being pumped into a special French Oak barrel that has a door in place to make filling and emptying easier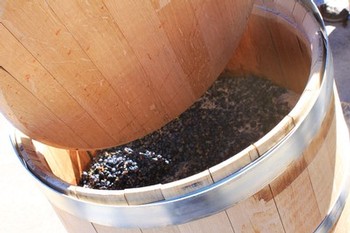 The deconstructed barrel waiting to be resealed with the juice and must inside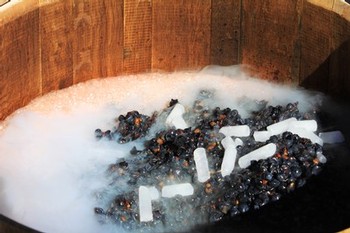 Dry ice is added to the must before the barrels are resealed to help cool off the berries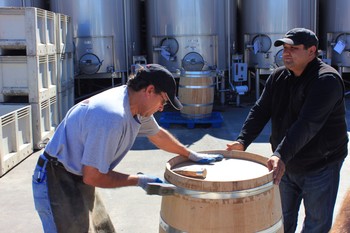 Resealing the barrel heads before they are sent into the cellars to begin the fermentation process
The barrels are stored in a special temperature-controlled room in the Castello's cellars during the fermentation process.