In Defense Of Napa Valley's Veteran Wine Hero
I was at a dinner party a couple of weeks ago and the subject of Napa Valley wine came up – I realize this is not shocking nor in itself blog-worthy! However, at this dinner we were specifically discussing Chardonnay. Maybe it was the time year as Chardonnay was the grape harvest du jour. Maybe it was the company I was in; long time Napa locals and wine makers. Maybe it was the wine I brought for the occasion.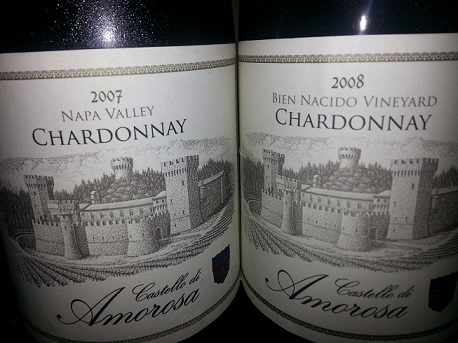 This was mildly ironic as not more than 8 years prior I attended an ABC dinner, an entire night of Anything But Chardonnay. Admittedly, I was a reluctant participant but I attended *sigh* and took part in the grape bashing. "Too oaky!" claimed one reveler. "Manipulated and contrived" cried another! My favorite denial of this classic varietal was "Chardonnay does not pair well with ANY food!"
Wow–quite a statement! However, to put it bluntly; they were wrong.
It is now a number of years later and we are approaching Veteran's Day. In America, this day is reserved as a time to reflect and celebrate past heroes and champions. Perhaps wine lovers should follow suit and pay respect to one of America's wine heroes. After all, it was a California Chardonnay that won the 1976 Paris tasting and brought recognition and eventually fame to a small farming community; Napa Valley.
Chardonnay is the second most planted white wine varietal in France and remains the most planted white wine grape on the planet. Additionally, Chardonnay styles differ dramatically and can reflect the artistry of wine making; buttery and oaky, crisp and fruity, austere with minerality. Combined with the diversity of soil and climatic zones, Chardonnay exhibits varied complexities and offers ageble wines with broad appeal. Plus, in the last 20 years wine makers have found malolactic fermentation and oak ageing are winemaking tools, but don't have to be used fully, or at all, with every Chardonnay.
I regret my brief slide into the ABC movement. While our preferences may change as we explore different growing regions, varietals, and styles of winemaking; it is important to stay open-minded and savor new discoveries. And sometimes, we just have to stick to our guns and defend tried and true veterans that brought victory to the field and eventually… to our glass!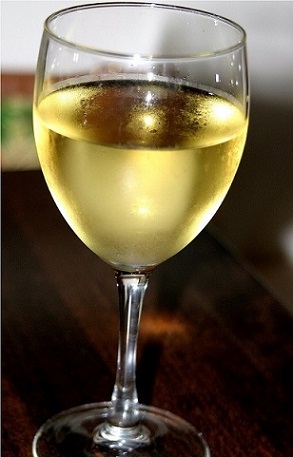 Chardonnay is primarily fermented in oak and is aged sur lie or on the lees. Lees refers to deposits of residual yeast and other particles occurring during fermentation. Ageing sur lie softens the taste of Chardonnay, especially on the finish. Oak provides oils and resins which not only add to the overall flavor and character of the wine but make Chardonnay a white wine which can benefit from bottle ageing.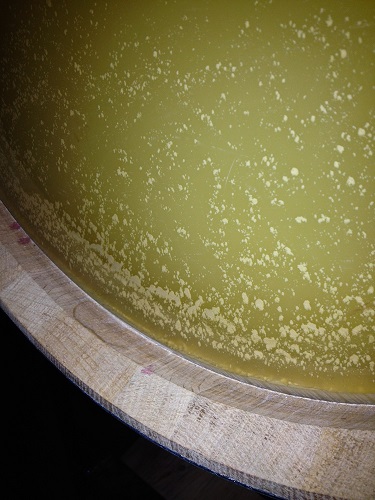 The 2007 Napa Valley Chardonnay has become ripe and juicy with golden apple, comice pear and lightly toasted brulee. If you have any of this Castello beauty hiding in the corner bring it out this Thanksgiving! Enjoy with a hearty harvest salad garnished with candied pecans and crumbled Feta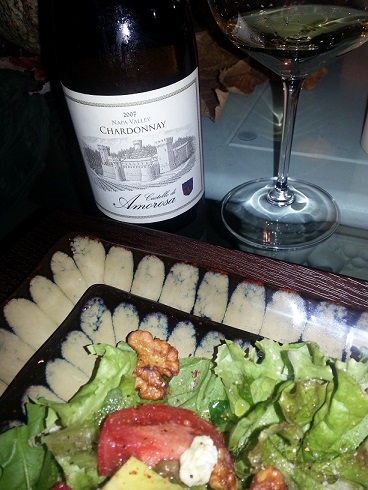 The 2008 Castello di Amorosa Bien Nacido Chardonnay knocked my proverbial wine-socks off! At five years from vintage this was visually beautiful and simply stunning in the glass. Vanilla and spice were the words repeated again and again, however, the 2008 Bien Nacido retained its fruit and was vivid on the palate.
Chardonnay may not be the traditional go-to for Ahi salad, but, a bit of ageing leveled off the acidity and the velvety texture of the avocado played off the creamy notes of the Chardonnay. This was a delicious and luxurious pairing.
Ahi and Avocado Salad with Ponzu   
½ cup ponzu or soy sauce
3 Tbsp. water
2 Tbsp. rice vinegar
1 Tbsp. grated ginger
1 thinly sliced green onion
1 ½ tsp. lime juice w/ zest to taste
Mix well and pour over cubed Ahi and Avocado