Score! – Wine Rating Scale Explained
American Idol, Miss USA, The Olympics, elections, books, dancing, movies, food, wine. From singing competitions to the food we eat and the wine we drink, it is compared and calibrated by a score. What are the parameters used to grant a number or a rating and how reliable are ratings when so much of what we find pleasing, appealing or excellent is purely subjective. For instance, can we look to a score on a bottle of Cabernet Sauvignon to gauge a wine's potential for enjoyment when individual tastes vary so widely? Wine is scrutinized, gauged and rated not by peers or consumers but, by 'professionals' who ascribe these ratings as a score intended for submission to the public via magazines, websites, social media etc.
Let's dissect and analyze what a wine score is.  What goes into a wine rating?
A wine rating is a score assigned by one or more wine critics for a wine tasted as a summary of that critic's evaluation of that wine. A wine rating is therefore a subjective quality score, typically numerical. Over the last couple of decades, the 50-100 scale introduced by Robert M Parker Jr. has become the standard. This wine rating scale is now used by 'the big 3', Wine Enthusiast, Wine Spectator, and Wine Advocate.
95-100 Classic: a great wine
90-94 Outstanding: a wine of superior character and style
85-89 Very good: a wine with special qualities
80-84 Good: a solid, well-made wine
75-79 Mediocre: a drinkable wine that may have minor flaws
50-74 Not recommended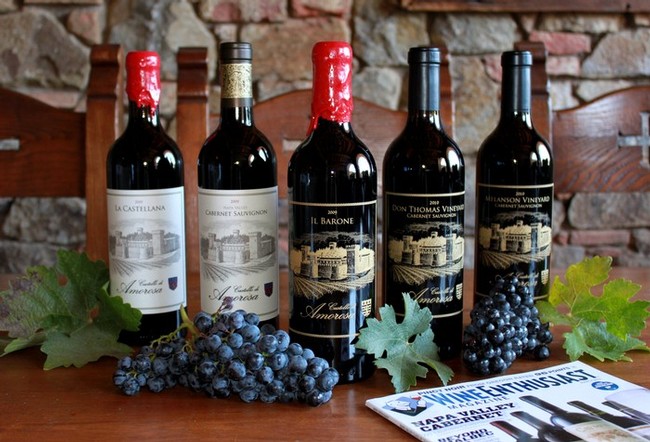 In addition to a simple numerical score most wine ratings are meant to be a supplement to the wine tasting notes, which are brief descriptions of the critic's impression of the wine, including aromatics, flavor qualities, and ageing potential or drinking window. However, the emphasis is more often on the score applied by a critic rather than on the actual tasting notes.
Castello di Amorosa wines have been well received by 'The Big 3'. Parker's accolades for Il Barone and La Castellana were a huge boon for Castello di Amorosa as one of our first published big ratings. Wine Enthusiast's critical acclaim for Castello's wines is a source of great pride and most recently, Wine Spectator has granted some very big numbers indeed.
2010 La Castellana: James Laube, Wine Spectator (92 Points) – Intense, with firm, ripe, vibrant cedar, red and dark berry, anise and loamy earth flavors, framed by chewy tannins and ending with a long finish laced with notes of black licorice. Drink now through 2024.
2010 Don Thomas: James Laube, Wine Spectator (94 Points) – Amazingly complex and refined, tuned to a mix of red and dark berry that's elegant and graceful without sacrificing Cabernet's power and torque. Ends with classic Bourdeaux-like cedar and cigar box touches, gliding along with fine-grained tannins. Drink now through 2028.
In an effort to remain unbiased, educated and in-touch with the amazing wines of Napa Valley we conduct blind tastings throughout the year for our Castello staff to participate in.
A great tasting needs a great room!
We tasted 27 different Napa Valley Cabernet Sauvignon in the Great Hall of Castello di Amorosa–
Here is the line-up….

The bottles were placed in a brown bag and numbered by a non-tasting non-voting participant….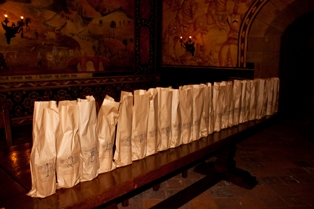 ….which guarantees an unbiased result.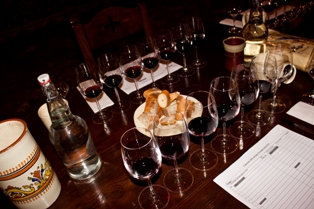 Castello Pres Georg Salzner and Vice President Jim Sullivan enter the results.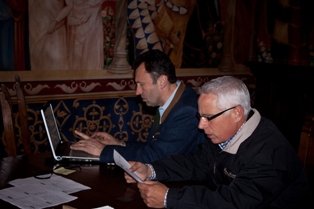 The room cheered when the winner was revealed!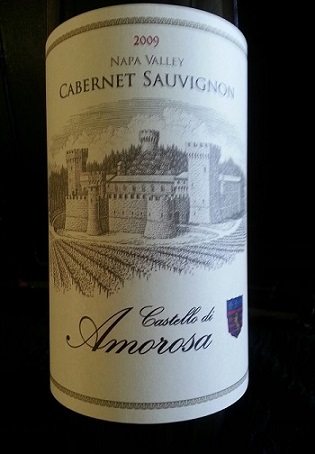 Check out more great scores for Castello di Amorosa's wines-
Castello di Amorosa Wine Accolades
A sweet finale on the Castello di Amorosa Royal Pairing, the Fantatini. Recipe?… Simple. Scoop and pour!