Opening Ceremonies and Gold Medals
As the western United States wades through another year of drought and record- breaking almost non-existent rainfall totals (so far!), old man winter has tackled the mid-west and sucker-punched much of the nation with record-breaking cold temps. Another event is approaching to further benchmark winter 2014. On February 06 the 22nd Winter Olympic Games begin in Sochi Russia—and the opening ceremonies televised on February 07 are sure-to-be epic.
The first celebration of the Winter Olympic Games was held in Chamonix, France in 1924 and have now been hosted on three continents. Twelve countries have attended every Winter Olympic games and six of those (Austria, Canada, Finland, Norway, Sweden and the United States) have earned medals at every Winter Olympic Games. However, only one – the United States – has earned gold at each Olympic Games.
In wine country, January ushers in one more iconic winter event, The San Francisco Chronicle Wine Competition. This competition began in 1983 as the Cloverdale Citrus Fair Wine Competition.  Today, it is known as the San Francisco Chronicle Wine Competition and holds the title of the largest competition of American Wines in the World….a wine Olympics.  On the subject of olympics and medals and earning gold (in wine competitions there is a double gold and the coveted Best of Class!), I could turn this into an all-around high-five big kudos to Castello di Amorosa's amazing wine making team with the recent Gold Medal performances but instead, I am getting ready for a sure-to-be-epic opening ceremony of my own, time for a glass of gold medal winning Cabernet Sauvignon.
Beyond Double Gold—Best of Class
♦ 2012 Pinot Bianco
♦ 2012 Dry Gewürztraminer
♦ 2009 Napa Valley Cabernet Sauvignon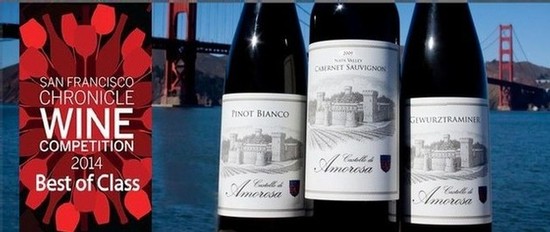 Best of Class and tonight, best in the glass
2009 Castello di Amorosa Cabernet Sauvignon is one of my favorite Cabernets. It exhibits depth and strength but exudes finesse and elegance. Exactly what every gold medalist needs—power and grace!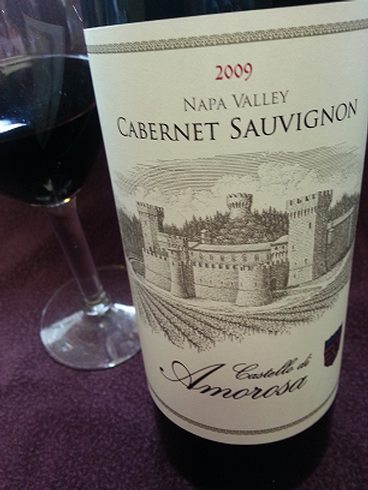 Opening Ceremony Night Dinner –Because timing is important too!
Salisbury Steak with Fingerling Potato Hash
Make this revised classic in 30 minutes!
For the Salisbury Steaks combine:
1.5 pound lean ground beef
1 tsp. coarse ground pepper
½ sweet onion finely chopped
½ package onion soup mix
1 tsp. mustard
1 tsp. ketchup
1 egg
2 tsps. Worcestershire
Form into 4-6 oval patties and brown in large sauté pan, approximately 2-3 minutes each side. Remove and place in shallow backing dish and finish in 350 degree oven for 10-15 minutes.
Potato Hash:
Dice potatoes, mushrooms, and remaining ½ sweet onion. Brown onion in 3 Tbsp. butter. Add mushrooms and potatoes after onions have begun to sweat. Add beef stock/broth, salt and pepper to taste. Bring to a slow simmer adding broth as needed approx.15 minutes.
Remove Salisbury Steaks from oven and serve with hash
Enjoy!