August 21st, 2013
Meet Mary
Rosé – A Dozen Pairings Picked
If you've attended the Royal Food and Wine Pairing at Castello di Amorosa it comes as no surprise –you know my affection for Gioia, Castello di Amorosa's Rosato of Sangiovese. Perhaps one of the most versatile food wines available as the pairing possibilities for a well-made rosé are seemingly endless. Traditionally, rosé wines are dry, light, and fruity and carry appeal for white and red wine drinkers. Any black-skinned grape can be made into a blush or rosé wine. The longer the skins remain in contact with the juice and pulp, the more pigment is imparted and, thus, the redder the juice or wine becomes. Rosé is produced by limiting the contact of the skins of black grapes with the juice; for Gioia, it is approximately 36 hours. As we weather the dog-days of summer and celebrate with picnics, grill parties and backyard entertaining, Rosé indeed seems to be on everybody's mind…and palate. This is a perfect opportunity to explore the aforementioned 'pairing possibilities'.
Let's put my theory to the test…let the pairings begin!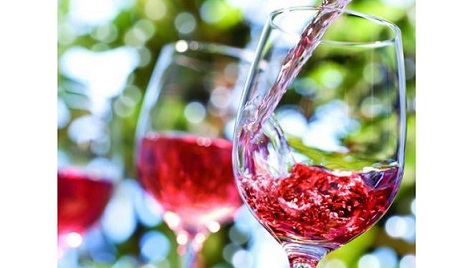 Castello di Amorosa's Gioia, Rosato of Sangiovese has a bright and beautiful salmon colored hue. Serve this chilled rosé with tasty apps or a light and seasonal dinner.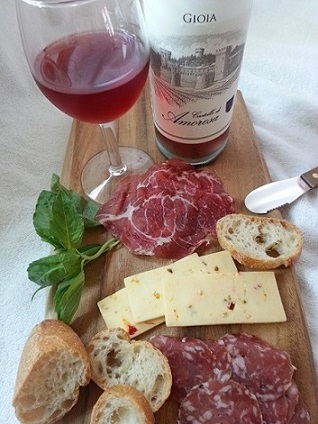 Full-bodied rosé wines are a great match for terrines, pate, and Italian salumi. The fruit notes of Gioia compliment the gamey meats and the acidity provides just enough 'zip' to cut through the fattiness of these tasty selections.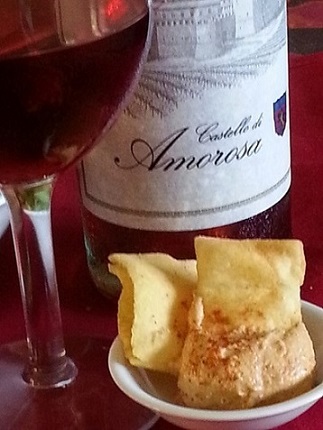 Roasted red pepper hummus is a yummy app with a chilled rosé.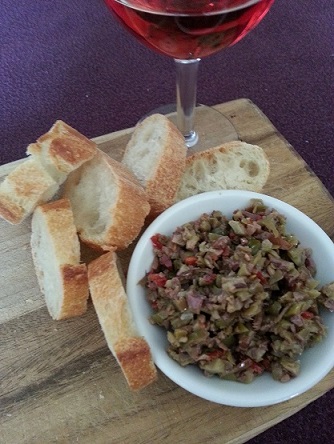 Olive-based tapenades with anchovies, capers and light vinegar are prolific in Italian cuisine. The saltiness of the olives is a perfect back drop for fruity Gioia.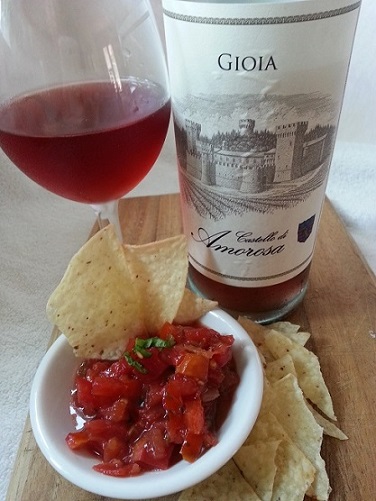 Forget the margaritas! Salsa provides a hint (or a lot!) of spice—cool crisp Gioia with the tomatoes and cilantro atop a salty tortilla chip is delicious. Yo tengo chips and salsa!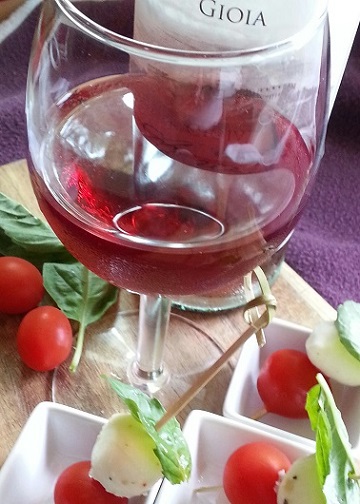 No time to make a caprese salad..no problem. Caprese bites are a quick and easy alternative.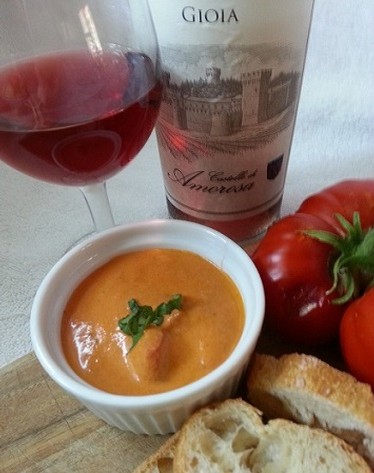 A favorite on the Royal Food and Wine Pairing menu, cream of tomato basil soup. A touch of cumin adds Mediterranean flair and chilled Gioia is a refreshing contrast to this warming comfort soup.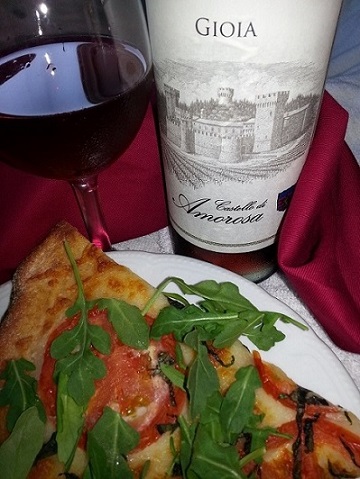 Margherita Pizza is named for the first Queen of modern Italy, Margherita De Savoia-(l85l-l926). Margherita pizza is a thin crust pizza with tomatoes, mozzarella and basil. For a peppery freshness, try it topped with leaves of arugula. Thank you Queen Margherita, you would have loved this pizza with Castello's Italian style Rosato of Sangiovese, Gioia.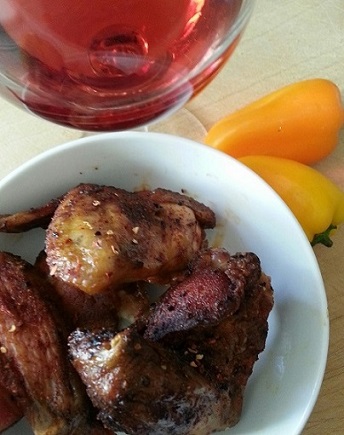 Hot wings and Gioia was my husband's favorite pairing. This duo takes me back to circa 1985 ordering buffalo wings and a bottle of chilled white Zin! I was definitely on to something—fruit and spice makes everything nice!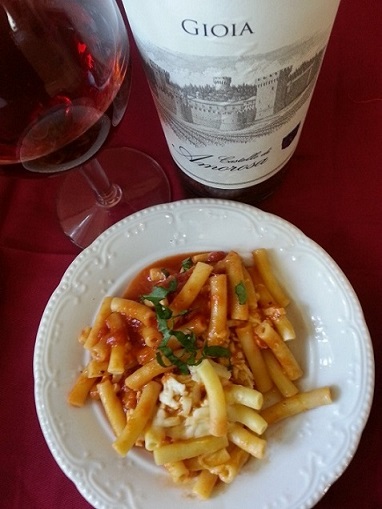 Pasta with marinara sprinkled with Asiago and served with Gioia was a simple meal on a hot summer evening.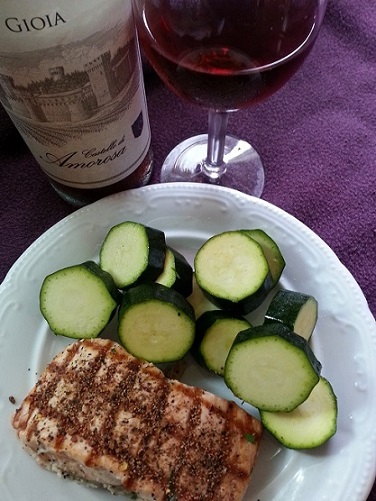 Research suggests that eating oily fish once or twice a week may increase your lifespan by more than two years and reduce your risk of cardiovascular disease up to 35 percent. That combined with a relaxing glass of wine and we may have found the fountain of youth! I loved the grilled smokiness of the delicate salmon meat which was complemented by the crisp berry burst of Gioia. This healthy pairing was incredible; grilled sockeye salmon from our friends at Great Alaska Seafood  http://www.great-alaska-seafood.com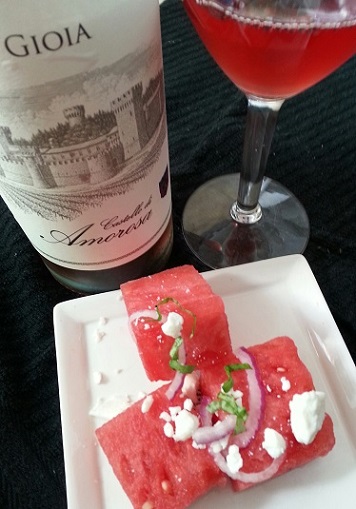 A cool watermelon salad tossed in cold pressed grape seed oil and light vinaigrette. Flavorful red onion and a few crumbles of feta combine for a surprising palate of sweet, salty and tangy. Castello di Amorosa's Gioia completed this palate of fruity crispness.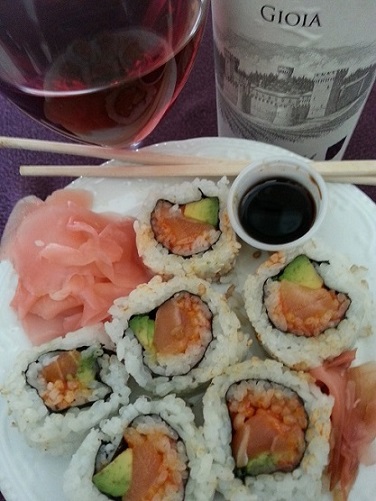 Kanpai! Talk about a mixed marriage! Rosé is a natural for exotic spices.