September 4th, 2013
Bring on the Pig-ment-Skin
As summer comes to a close and long hot days become abbreviated and alleviated with cooler temps and sweater worthy evenings–September is here. With it, the beauty of harvest and fall is underway. Undeniably my favorite time of the year; the anticipation, the realization of another season. Nervously…… we wait. The hopes, the expectations— will it be as good as last year? Will this year bring the success of another triumph? Will we get the points and revel in great scores? It has finally arrived.
That's right… are you ready for some football!?
Regular season NFL starts this week and the pigskin is finally back in action. Of course, while the football is being passed and punted on the gridiron the red zone has officially been crossed at my house. Bring on the pigment!
All wine grapes contain clear juice. Although there are a few varietals with tinted juice it is extremely rare. Red wine becomes colored or pigmented in the winemaking process. The liberated or pressed juice of black grapes are fermented in contact with the skins. Since the skins contain all the color, fermentation with the skins extracts this color to the juice and resultant wine. The skin of black grapes also contains complex elements that not only result in this pigmented juice, but imparts tannins and many healthful antioxidants.
My match-up this week includes Cabernet Sauvignon; and since it doesn't get much more pigmented than this thick-skinned varietal… well….. this pairing calls for a pepper spiked little pig of my own to mark the occasion.
Cheers, or as they say on the field—get ready for kickoff!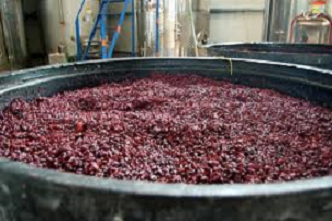 No need for binoculars! View this action live and in person from the proverbial 50 yard line! Fall is the time of year for a trip to wine country. Watch the winemaking process from Castello di Amorosa's home field, the crush pad!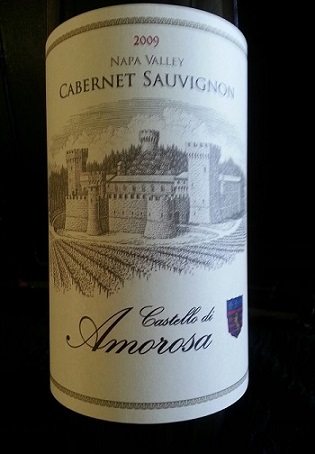 Talk about score! Robert Parker gave Castello di Amorosa's 2009 Cabernet Sauvignon 91 points! This 100% Cabernet Sauvignon is brawny with loads of muscle yet exhibits a graceful and elegant mouth feel. Brooding deep dark fruit with a hint of spice box and black pepper. Touchdown!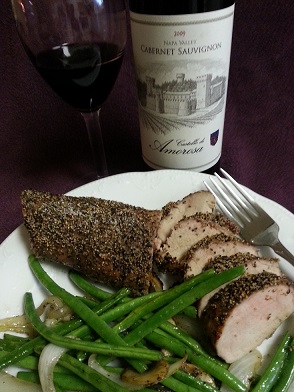 Simple, quick and delicious. This meal won't keep you away from important plays! I sprinkled the tenderloin with sea salt and garlic powder then very generously coated it with coarse ground pepper. Bake at 350 degrees until the center of the loin reaches 150 deg. Let rest for 10-15 minutes before serving. The peppery seasoned tenderloin plays off the dark fruit of the Cabernet. After Sunday's match-up this makes for incredible sandwiches to enjoy the next night…during Monday Night Football!