October 3rd, 2013
Meet Mary
Grape Seed Oil Process – Enlightened
For the last 19 months, I have been on a journey of more healthful eating. This has included only small quantities of lean meats with most animal proteins in the family of fish and fowl. Most of my daily caloric intake comes from fiber via fruit, vegetables, nuts and whole grains. I thought I was doing great; losing pounds, gaining stamina….I felt renewed…invigorated… healthy. However, while a high-fat, high-calorie diet increases the risk of gallstones, apparently a very low fat weight loss plan can also cause issues. While a low fat diet allows you to lose weight, with smaller quantities of fat and oil to break down, the gallbladder does not contract or empty as frequently, and, as a result, this may produce a build-up of bile and possibly an increased risk of gallstones.
With my gallbladder permanently out of the equation, I've taken time in the last few weeks for a little research…. along with a little lab work (i.e. cooking in the kitchen) in an effort to repair my relationship with fats and oils.
Oils are fats that are liquid at room temperature. Although oils are not a food group, they provide essential nutrients and are therefore included in USDA recommendations of what to eat. Most fats should be polyunsaturated (PUFA) or monounsaturated (MUFA) fats. Oils are the major source of MUFAs and PUFAs in the diet.
My research eventually took me to an article published by Bon Appétit. Who better than the good eating experts to help guide me in my search for healthy and tasty oil? "Some fat is actually good for you," the article quotes Alice H. Lichtenstein, director of the cardiovascular nutrition laboratory at Tufts University. "But, to get the most from fats, you need to go beyond olive oil. Open your cupboard to new flavors, cooking temperatures–and health benefits–by diversifying your oils."  In the number one position of most healthful oil on Bon Appétit's list—grape seed oil! High in polyunsaturated fats and vitamin E, grape seed oil has a high smoke point, which makes it a good substitute for olive or vegetable oils for a sauté or stir-fry, and because it has light and clean flavors on the palate, it lets top-notch ingredients stand out.
I remain diligent when it comes to healthy eating and food choices. However, as a discerning skeptic my cynical tendencies combined with my resistance to change has always played second string to the great equalizer; taste! Donning a lab coat for this foray instead of an apron, I must experiment. I made a few fairly standard favorites where I traditionally used olive oil and substituted grape seed oil.
The results were en-lightening!
The process begins on the conveyor for these yummy clusters. Ready to go into the hopper where the stems will be separated and then composted.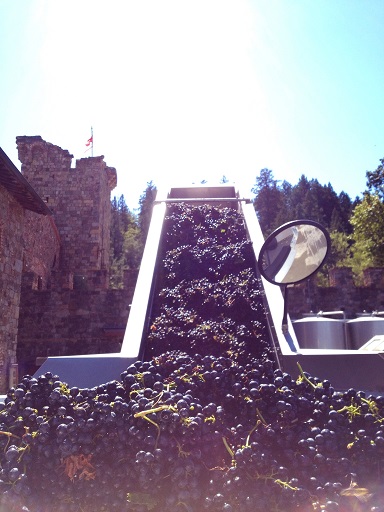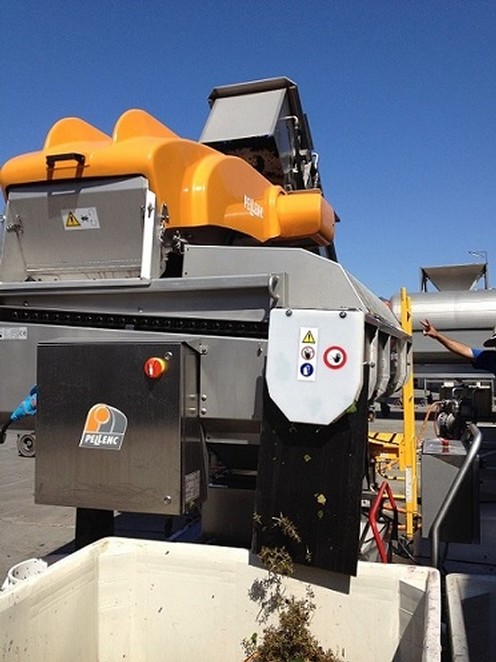 Although we are a world of organic goals, long term sustainability is realistic and achievable now. The stems are separated from the clusters and prepared for composting and provide vital nutrients in the vineyard.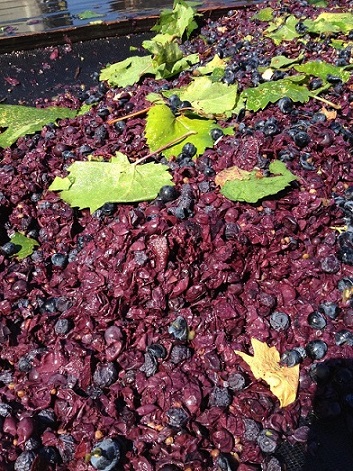 After fermentation and a final press of the skins, the pumace is taken and the seeds will be separated and dried.
.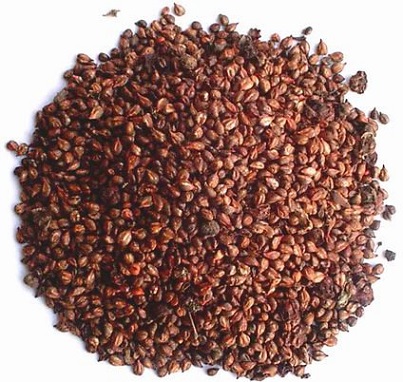 After several months, the dried grape seeds are ready to be pressed and oil is extracted from the seeds. The oil is obtained through pressing and grinding seeds with the use of stainless steel presses. Since grape seeds are discarded as part of the wine making process, the extraction of the oil is an efficient and sustainable use of a byproduct.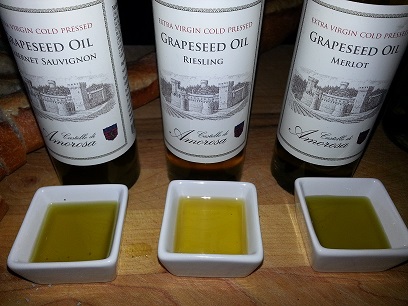 The best oils are cold pressed. Although pressing and grinding produces heat through friction, the temperature must not rise above 120°F for any oil to be considered cold pressed. Cold pressed oils retain their flavor, aroma, and nutritional value. Sample cold pressed grape seed oils at Castello di Amorosa on the Royal Food and Wine Pairing tour.
Since grape seed oil is lighter than olive oil, I was having a problem with a pool of oil accumulating at the bottom of the salad bowl. Problem solved; when making salads, I now add the seasonings and toss it which coats the lettuce with the seasoning giving the oil something to adhere to. Light, healthy and the lettuce retained its crispness.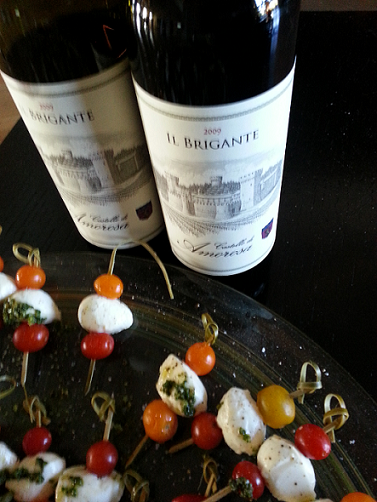 I drizzled a little Sauvignon Blanc grape seed oil and basil on the bruschetta bites—delicious!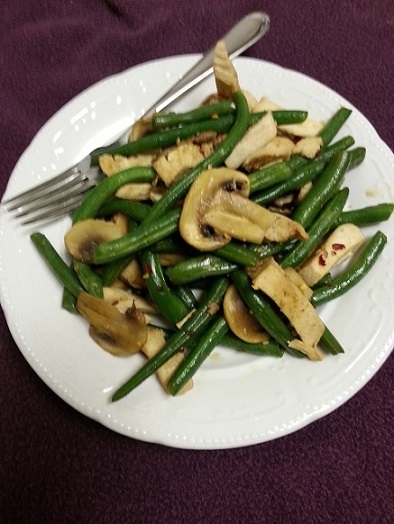 Stir fry and sautés are my favorite use of grape seed oil. Since grape seed oil has a higher smoking point than olive oil,  veggies and meat are added to a hotter pan. Plus, the grape seed oil gives off very little flavor in a sauté and this really lets the ingredients shine.