Pinot Perfection: The 3 Different Wines
Wine grapes can be an incestuous little bunch. Genetic mutations and cross-breeding varieties can spring forth entirely new and delicious fruit (a famous example being the marriage of Sauvignon Blanc and Cabernet Franc to produce the illustrious Cabernet Sauvignon grape), and considering winemaking and viticulture have been progressing steadily for millennia, it's no wonder we have such an abundance of varieties to choose from today.
One of the most intriguing family trees (or vines…) is that of the Pinot family, with the noble Pinot Noir reigning supreme at the head of the table. This dark-skinned grape was one of the first to be cultivated for the purpose of making wine, with records dating as far back as the first century AD in Roman-occupied Gaul (France). From these humble beginnings, the grape has mutated over generations to produce a number of clonal offspring, including Pinot Gris and its more elusive sibling, Pinot Blanc. Here at the Castello, we are fortunate enough to offer all three of these delicious family members in our tasting room, and call two of them by their Italian names of Pinot Grigio and Pinot Bianco.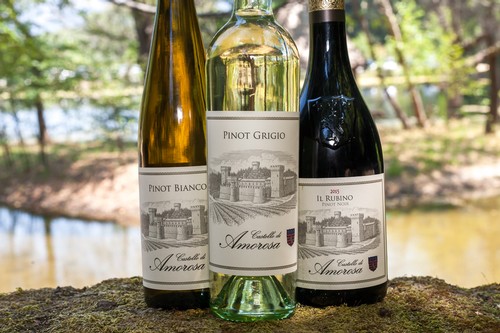 The names of these three Pinots are in many ways referring to the color of the berry's skin, with Noir (French for "black" or "dark") clusters having dark-skinned berries, Gris ("grey") traditionally ranging from pinkish-grey to deeper purple berries, and Blanc ("white") having light-skinned berries. In fact, due to Pinot Gris' darker color, it can also be made as a rosé-style wine, though it is most commonly fermented without skin contact, and so is seen primarily as a white wine.
Our Pinot Grigio (Gris) comes from Anderson Valley in Mendocino County, roughly a two hour drive northwest of the Castello. Here, the cool, coastal climate helps to produce a refreshingly dry and crisp white wine, bursting with zesty notes of citrus and green apple. Light in body and with a racy acidity, it is an excellent accompaniment to light appetizers and soft cheeses.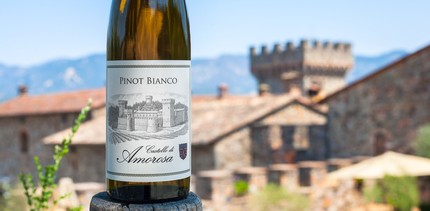 While not as famous as zesty Pinot Grigio, Pinot Bianco (also known as Pinot Blanc or Weißburgunder) is slowly gaining recognition around the world as an elegant alternative, offering a bit more body and complexity while still showing fruit-forward and refreshing notes on the palate. Because of these characteristics, it can often be mistaken for a lighter-styled Chardonnay. We try to craft our Pinot Bianco in the style of the Pinot Bianco wines from the Alto Adige region of northeastern Italy where it is most commonly grown, striking a balance between creamy and crisp, and allowing the fresh fruit flavors of apple, pear, and white flower to shine through.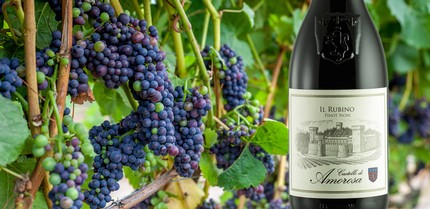 Pinot Noir (Nero in Italian) is a beautiful yet tricky grape to cultivate, with its thin skins demanding a cooler climate and more attention than its lighter-skinned relatives. For this reason, we source our Pinot Noir fruit from a variety of vineyards that all have a coastal influence on their climate and soils. We make a number of limited production Pinot Noir wines from these vineyards, including the family-owned Terra de Promissio vineyard in the famed Petaluma Gap of Sonoma County (for more, see Mary Davidek's blog post: "Terra de Promissio: Checkmate Castello"). We also source from several of our own estate vineyards, located in Anderson Valley, Los Carneros, and Green Valley of Russian River Valley near the Sonoma coast. Each of these locations can lend subtle nuances to the finished wine, which is why we also produce our Il Rubino Pinot Noir, which combines the best characteristics of these locations into a beautiful "ruby"-colored blend.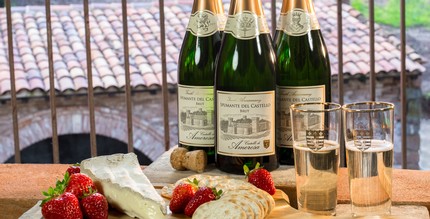 Pinot Noir is also one of the main grapes used in making the sparkling wines of Champagne, along with Chardonnay and, to a lesser extent, Pinot Meunier. We have recently released a new sparkling wine named Spumante del Castello in honor of our 10 year anniversary which is made in the methode traditionelle (formerly champenoise) and is comprised of 25% Pinot Noir and 75% Chardonnay from our vineyards in the southern end of Napa Valley.
With so many options to choose from, it's no wonder that the Pinot family is so well-loved and respected throughout the wine drinking world. We are proud to feature this clonally diverse clan here at the Castello, and look forward to welcoming Pinot enthusiasts and novices alike to our tasting room to get to know our Pinot famiglia.