The Quick Chill: How to Quickly Chill Wine to Serve
One of the most frequently asked questions we get in our tasting room is how to age, store, and serve our wines, which can vary greatly depending on the type of wine being talked about (for a handy reference, check out our Ageability and Cellaring Chart to see just how to store and serve your favorite bottles of Castello wines). But if you're looking for the fastest way to chill your favorite wine bottle tonight and need a quick tip on the best temp to serve it, look no further! We've got a few wine serving secrets that will teach you how to quickly, and properly, chill a wine bottle before serving to get the most out of every drop…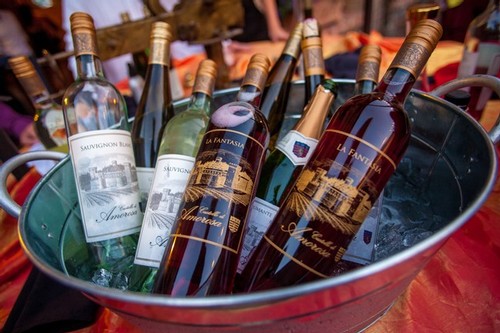 First and foremost, "Room Temperature" is normally not the correct temperature to serve your red wines! If the room your wine has been stored in is on the warmer side (above 65° F), your wine will be too warm and those beautiful fruit flavors will be masked by a stronger presence of alcohol. Conversely, your white wine stored in your refrigerator will most likely be too cold if you pop the cork right after you take it out, again masking the fruity or floral notes and structure with simply a refreshing temperature (think about that ice cold bottle of Pinot Grigio you consumed much faster than anticipated).
Here's a good rule of thumb for how to quickly chill wines before serving when you don't have access to a wine fridge:
♦ Red Wines: if your red wine is at room temperature and your room is warm, pop the bottle in the fridge for 15 minutes. This allows the temperature of the wine to drop just enough to reveal the beautiful layers within the bottle. For lighter bodied reds (especially Pinot Noir), it's best to err on the cooler side, as the flavors and aromas of these wines tend to be more delicate and benefit from a slightly cooler temperature.
♦ White Wines: if your white wine is coming straight from your fridge, let it sit at room temperature for 15 minutes, bringing the temperature up just slightly so you can enjoy all of the wonderful fruits and flavors in your glass. If you're in need of a super quick chill and forgot to put that wine bottle in the fridge in the first place, don't panic! Wrap a wet paper towel around your room temp bottle and pop it in the freezer for 15 minutes and it will be the perfect serving temp before you know it! Just be sure to set a timer so you don't forget about it!
Most red wines should be served between 60-65° F. Most white, rosé, and sweet wines should be served between 47-52° F. The Quick Chill is an easy trick that should help to make sure you get the most enjoyment from every sip!
Salute!