February 8th, 2015
Terra de Promissio Pinot Noir – Checkmate Castello
I love a game of chess, deep thought and out-maneuvering, strategy and calculating, all while carefully not giving up your advantage.  Chess is also an apt metaphor for many life situations; social posturing, politics of work, positioning friends, and dare I say…family?  Business is a place we commonly employ schemes and strategies, even the business of wine can pose circumstances which entail positioning and thoughtful approach. Admittedly this may seem counter-intuitive; to many, wine is perceived to be artistic and cerebral. Wine evokes romance and esoteric conversation, not strategy or offensive and defensive tactical maneuvers. However, as in all business, great success requires planning and navigating. After all, for a winery,  in the vast world of palate-pleasing if one only makes wine one likes or prefers, you may appeal to, well, one.
Which brings me to my point…and yes, I have one.
At a recent staff meeting the topic du jour was the release of the Castello's much anticipated Pinot Noir from the Terra de Promissio vineyard in Sonoma County. Certain die-hard cab-loving staff members were having a bit of a challenge wrapping their mind and palate around this particular bottling.  Full disclosure, this is not a Cabernet lover's Pinot. No, the Terra de Promissio vineyard is planted with prized Burgundy clones, the fruit displays structure with finesse and elegance rather than some Cali Pinot Noir's cab-like vim and vigor.
This pedigreed vineyard is located on a 50-acre ranch in Sonoma, overlooking the town of Petaluma in an area of much viticultural success known as the Petaluma Gap. Caution; an internet search result may yield directions to an outlet mall so include the term 'Pinot Noir' if searching for info about the Petaluma Gap. (unless you are looking for jeans or a sweater!)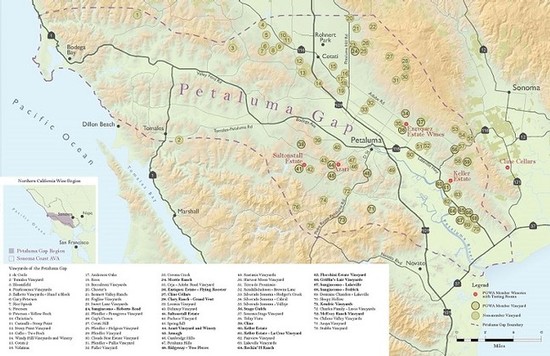 The "Gap" is actually a wind gap named for the coastal mountain opening that stretches east from the Pacific through the town of Petaluma and south to San Pablo Bay. This marine cooled gap creates perfect growing territory for cool temperature loving thin-skinned Pinot Noir grapes.
With the acquisition of Terra de Promissio fruit, Castello has advanced on yet another strategic post of wine making and palate-pleasing, classic old world meets new world Pinot Noir. This base is covered…the palates are pleased. Good move.
Now, back to the point I assured you I would make. While it is true, Cabernet Sauvignon is the powerful king of the sun-drenched Northern end of Napa Valley, Pinot Noir is most certainly the reigning queen from Sonoma.
And, just like the game of chess……it is the queen who takes the game.
Checkmate.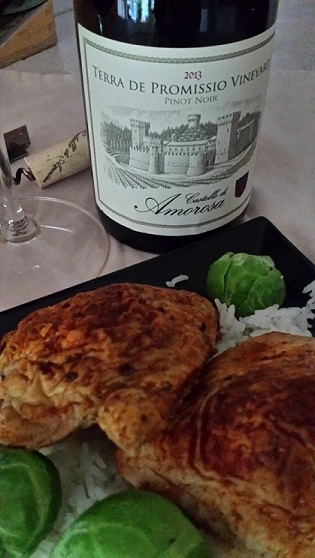 Chinese Five Spice Chicken Thighs
Five Spice is a preblended mixture of Star Anise, Cloves, Cinnamon, pepper and ground Fennel Seed and is a tasty rub for pork, salmon and poultry. Five Spice doesn't overwhlem Pinot's subtlely, instead, the bright red fruit notes of the Terra de Promissio Pinot Noir create a perfect complement for this exotic spice rub. This quick and delicious preparation is also ideal for chicken legs or appetizer wings.
Directions:
Rinse and dry chicken pieces.
Preheat oven to 375 degrees.
Coat the chicken with a dry rub of Chinese Five Spice.
Place the chicken thighs in a pan and into oven and bake for about 25 to 35 minutes – until completely cooked through (an inserted thermometer should read 170 degrees).
Serve with rice and enjoy!