June 16th, 2014
Pinot Noir— The Art of Getting There
"There is no 'there' there". Gertrude Stein's often quoted prose is commonly used to describe something that lacks soul, culture, life, or identity. While Ms. Stein was referring to the faceless existence of city-life, some critics have proclaimed this lament when speaking of grapes grown in and the wine making efforts of America.
The French speak of 'terroir' when referring to winemaking and the wines of France which is to say grapes are a reflection of the region in which they are grown; the soil, the climate, the aspect of a hillside, the amount of rain, the surrounding vegetation, etc. The United States' AVA system has been criticized as nothing more than a weak effort to create a false sense of place in the wines produced — an illusion– as they state, there is nothing 'there'.
*le sigh*
I decided to look beyond Cabernet Sauvignon, the reigning king of grapes for my initial attempt at disproving this theory and thus directed my attention to a varietal that, in my humble opinion, is 'place' personified. Pinot Noir, the thin skinned red wine grape of the Burgundy region of France has become increasingly popular with wine-buying wine-drinking Americans. It is a classic, elegant, food friendly wine—its enigmatic character and appeal as elusive as it is obvious.
Pinot Noir grapes are grown around the world but they flourish in cooler growing regions. In Oregon, the Willamette Valley is nearly the same latitude as the famed Burgundy region of France and has become synonymous with world class Pinot Noir. Oregon producers have found their sense of place as the Pinot fruit embodies the sophistication and finesse of a great Burgundy yet displays layered earth and bright red fruit summoning unrestrained California productions.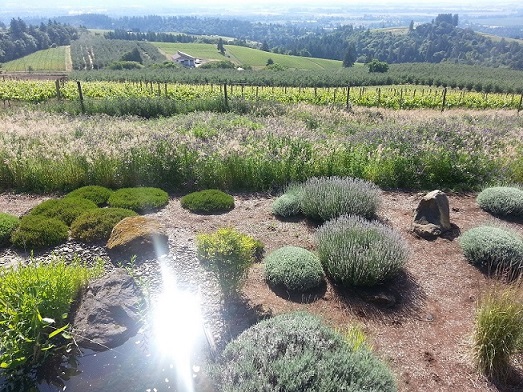 The rolling green hills of temperate Willamette Valley provide the perfect place for cool-climate loving Pinot Noir
California Pinot Noir is more mercurial stylistically without any one style from this large and geographically diverse growing area. From Santa Barbara and the Central Coast to the south and Sonoma County and Anderson Valley in the northern half of the state, diverse topography and weather patterns separate this region of more than 450 miles. From Santa Barbara and the Central Coast we find opulent wines with definitive Pinot Noir fruit that reflects its warmer and more southern roots with a controlled strength. Cooled by the San Pablo Bay, the Carneros region straddles both Napa and Sonoma Valley and shows hints of spice and brightness unique to these cooler vineyard sites of this sun-drenched area. North of Carneros we find the Sonoma Coast where Pinot shows depth and earthy complexity with some of California's most acclaimed Pinot Noir producers firmly planted in this lush pacific expanse. Further north of Sonoma we find California's newest Burgundy-like super star in the highly praised and sought after Anderson Valley of Mendocino County. Here the ocean cooled valley floor rarely sees summer temps above 85 degrees….even in the height of the season. Pacific marine influence floods the valley floor with morning coastal fog providing slow even ripening. Enthusiasts agree this temperate region yields fruit of subtle distinction.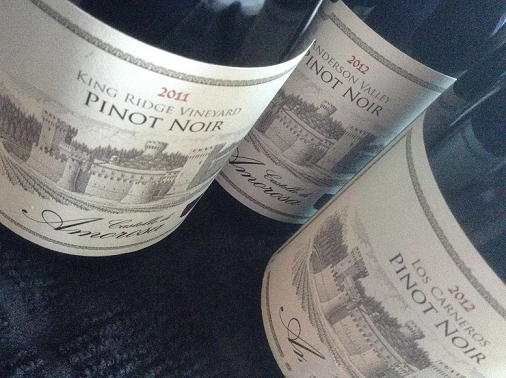 A Pinot Noir trio from Castello di Amorosa; Los Carneros, Anderson Valley and the highly acclaimed King Ridge of Sonoma Coast. Each with expressive fruit and character from unique vineyard locations.
As far as American winemaking efforts, maybe we have not come up with anything quite as mysterious as 'terroir' to encapsulate the distinctive place of our wines….maybe we never will. But, as the saying goes, sometimes the best part of the journey is getting there.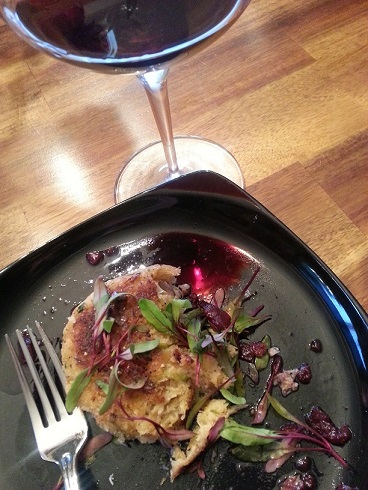 Dungeness Crabcakes with Rainier Cherry Pinot Noir Reduction
For the reduction-
10-15 ripe cherries, pitted and chopped
10 ounces Pinot Noir
1 Tbsp Honey
1 Tbsp Seasoned Rice Vinegar
Pink peppercorn to taste
Add all ingredients to sauce pan. Slowly reduce over medium heat.
Mary Davidek C. S., S.W.