July 2nd, 2014
Red, White and Pasta
Summer is a time to relax and watch a baseball game, munch on a hotdog, linger over a backyard barbecue and indulge in a few guilt-free s'mores by the campfire. Heavy comfort foods traditionally don't hold much appeal when the mercury climbs, but, with a few variations and use of fresh seasonal ingredients pasta is one pantry staple that is never out of season. True– pasta is a favorite comfort food in cold weather months. However, with quick and easy variations we can create light delicious meals which are easily transported for dining al fresco and provides yummy left-overs. As the temperature rises, simply exchange heavy additions for fresh seasonal veggies and farm fresh produce; corn, peas, tomatoes, and backyard herbs. And don't put the red wine glasses away waiting for autumn's first frost. Light-bodied reds like Pinot Noir and Sangiovese are just right with summertime favorites like King Salmon or pasta salads.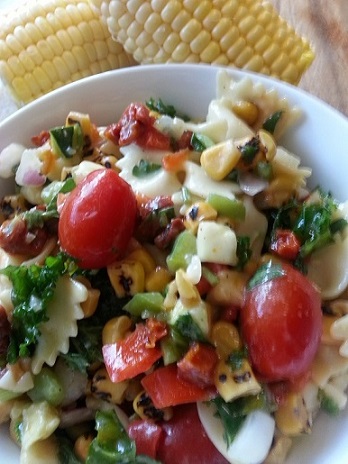 Make a pasta salad with garden fresh produce and serve with an ear of sweet summer corn. Experiment with salad-friendly shapes like rotelli or farfalle which helps grab the dressing and the veggies.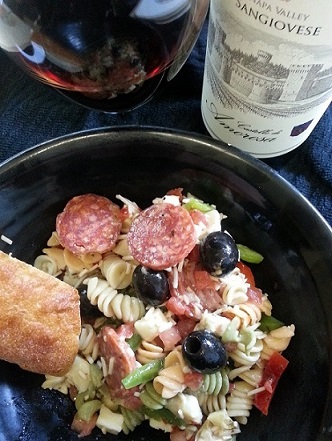 Build a heartier dish by adding Italian Salami, salty cheese or briny olives. Toss together in a light vinaigrette and serve with a tasty herb ciabatta. Castello di Amorosa's Italian-inspired Napa Valley Sangiovese comes alive with this light but satisfying salad entrée. Serving temps are vitally important with these lower pigmented grapes. Target 62-65 degrees, this allows the bright fruit notes to shine through without becoming dulled by warmth.