November 24th, 2012
Letf Over – But Not Forgotten
Having a birthday on or near a holiday has its good and bad points. Obviously, friends and family gather to frolic and take part in festive merriment. Unfortunately, said merriment typically has little to do with the birthday and everything to do with the holiday. Me, I share my birthday with a Turkey. November 25th is always crammed with either celebration preparation or post-feast recovery. Every 7th year my birthday is THE day and the turkey proves a formidable rival; pumpkin pie with birthday candles does not have the allure of butter cream frosting with bright neon pink birthday wishes.
My mother was sensitive to this scheduling conflict, thus, when I was very young I was appeased with a trek to the toy store and carte blanche up to $25. In my teens, it was off to the movie theater with my friends for whatever movie was making its blockbuster holiday premier and a pizza sleep-over. As I grew up and eventually, out, we took on a new tradition. I was crowned the decision maker as to what to do with the turkey left-overs. Finally, the bird's day in the spotlight was over, literally left-over.
A few of my favorites were fairly ordinary; Shepherd's Pie, Turkey pot pie and Turkey noodle soup were regulars. As I got older, the requests were a bit more sophisticated. Turkey and sour cream enchiladas met with approval and when I requested Turkey Taquitos–that was a keeper.
However, one of my favorites was nothing inventive, creative or inspired by culinary vision. Regardless of my left-over request, turkey salad on mini cocktail bread made an annual appearance and truth be told, I would have forgotten about the other gastronomic explorations in favor of the plate of petite pleasers. As I came of age to share a bit of vino, a glass of bubbly or a fruity rose was included in the party.
I no longer compete with the bird, instead, we are allies. I happily share my birthday with the invited guest and relish the tasty treats it provides.
I thank the bird as left-over memories fill me with happiness.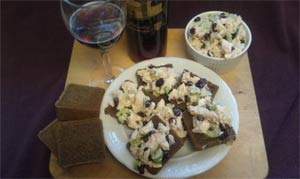 Not only a great way to use the turkey, but with this salad you can toss in fennel, celery, apples, onion, or cranberries. The La Fantasia has bright berry notes and a slight effervescence; what a way to welcome the holiday season.
Mary Davidek C. S., S.W.