November 14th, 2012
Brussels Sprouts, Wine and a Founding (foodie) Father
My inaugural blog is inspired by the season (harvest, Thanksgiving) as well as a pivotal election year. Lately, I have found myself churning with thoughts of presidents, Thanksgiving feasts and, of course, wine. For some inexplicable reason this combined into one seemingly implausible package when suddenly an image of Thomas Jefferson became etched in my mind. After a little cyber-searching clarity was resumed; apparently, for me, nothing says 'Thanksgiving' like Thomas Jefferson, Brussels sprouts, and wine!
Although the exact origins of Brussels sprouts are not known, Thomas Jefferson is credited with introducing these curious plants to the United States and they were planted at Monticello, his Virginia home. Jefferson loved wine and became one of the world's most quoted wine connoisseurs. He said 'wine is a necessity of life'. Well, along with great wine our nation's 3rd president also had quite an appetite for interesting food and was known for his sophisticated palate. Jefferson frequently hosted lively dinner parties and would often tantalize and intrigue his guests with new delicacies and served delicious wine and unusual foods to promote stimulating conversation. I can only imagine the questioning glance of an inquisitive guest as a platter of odd mini- cabbages were set upon the table and unexpectedly found them to be deliciously savory little vegetables.
With mouthwatering dishes, wine flowing, animated discussions and laughter filling the air……….I then pictured a pleased Thomas Jefferson, content and giving thanks.
Shucked Brussels Sprout leaves Sautéed with shallots and pine nuts
(Aka How to Convert Brussels Sprout Haters into Brussels Sprout Lovers!)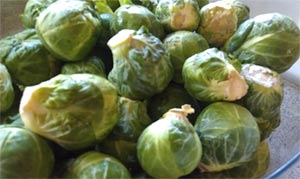 Brussels sprouts are a cruciferous vegetable as are cabbage, broccoli, and kale.  They contain healthy amounts of vitamin A, vitamin C, folic acid and dietary fiber and are believed to protect against certain cancers.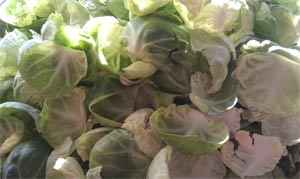 It takes a bit time but it is oddly therapeutic. Once shucked from the core, the green leaves of the sprout don't have a bitter tang. 1 pound of Brussels sprouts shucked leaves serves 4.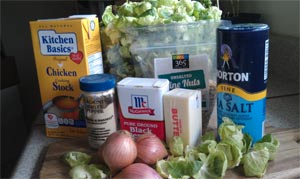 Sea salt, pepper (white or black), butter, pine nuts, shucked leaves, shallots, chicken stock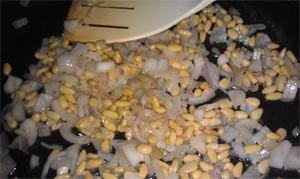 Lightly sauté pine nuts and shallots in 1TBSP butter and sprinkle w/ salt. Remove from heat.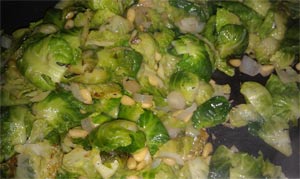 Sautee sprout leaves in 1 TBSP butter and season w/ salt and pepper. Add 2 to 5 ounces chicken stock as a light braising liquid. Boiling sprouts results in significant loss of nutrients but sautéing or roasting does not. Add pine nut and shallot mixture once the sprouts begin to cook down.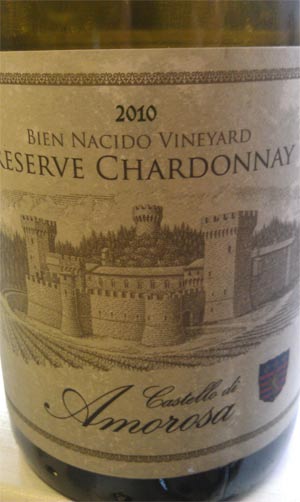 Although veggies are not typically wine-friendly, the butter and pine nuts make this a match for Chardonnay. Castello di Amorosa's Reserve Chardonnay offers just the right touch of juicy pear and stone fruits balanced with a texture of creamy nutty tones that compliments the richness of this dish.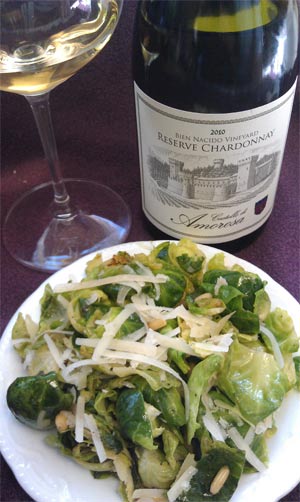 For extra goodness, sprinkle with grated parm.
Buon Appetito.