All the Right Stuffing: Recipe and Wine Pairing for Thanksgiving
My first attempt at preparing Thanksgiving dinner sans mother was in 1995, a rite of passage. This particular meal was not a small intimate dinner for myself and my husband, this feast included 2 harsh scrutinizing critics; my step children.
We rented a cabin near Lake Tahoe as we thought it would be the ideal setting for a mountain holiday. The prospect of a Turkey day snowfall and a warm fire seemed perfect. Unfortunately, my mother hurt her leg 3 days before the trip which left more than travel arrangements to rearrange, she was chef de cuisine!
Finally, Thanksgiving Day arrived which meant the inevitable trip to the grocery store, but first, a phone call to Mom. Amidst tears (mine), frantic note-taking (me), and some tricks (hers) I was set to create a yummy meal. With the list in hand, including the deal-breakers (nothing with carrots, nuts, or mushrooms for Mikaela and for Philip; no peas, cauliflower, or squash). *sigh*… off to the market.
I bought more than was necessary but I was in no position to make last-minute shopping trips, this was a one-time performance. Turkey breast; check. Wine; got it. Yams, mashed potatoes; easy. Wine; yes again. Gravy; not too difficult. Biscuits, the kids love little crescent rolls. Pie and whipped cream, double-check. Wine; yes, will need a 3rd bottle. But (cue Jaws theme) what about the stuffing?! The very stuff of which Thanksgiving can be made or broken. I got the stuff for everything else but the stuffing! And my Mother's stuffing was the benchmark, the Alpha, the Omega of stuffing. Turkeys were honored to be served with this stuffing. How could I have forgotten such a fundamental Thanksgiving Day dish? After all, I had watched her make stuffing for almost 30 years! That's 30 Thanksgiving dinners! Wait…um….er…..yes. Ok, thanks Mom, I got this.
We sat cross-legged at the coffee table in the middle of a cozy living room, a fire was crackling and the snow was falling. Thanksgiving Dinner 1995 garnered rave reviews, the critics were delighted and the stuffing recipe was just right. Happy Thanksgiving!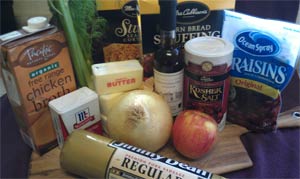 Some very traditional ingredients plus a few additions: cornbread stuffing mix, broth, butter, salt, pepper, sweet onion, apple, fennel, dried cranberries, salt, pepper, grape seed oil, and sausage. Lean turkey or chicken sausage is usually my preference, but for stuffing, I want the extra richness of pork sausage.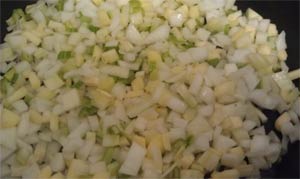 Sauté onion, fennel, and apple in grapeseed oil. Grapeseed oil brings complex fruitiness and is great for sauté. If available, use fennel instead of celery, it has a sweetness that compliments the onion and tart apple. This sauté has incredible aromatics.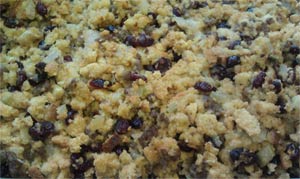 I prefer cornbread but any stuffing mix will work. Add dried cranberries for a splash of color and a hint of acidity. Mix with browned sausage and sautéed veggies. Add melted butter and broth per instructions increasing broth amount by 1/5th. Bake at 350°F for approximately 40 minutes, remove foil and bake an additional 5 to 10 minutes.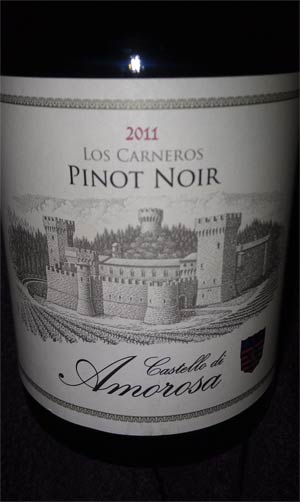 Pinot Noir and Thanksgiving are a given at my table but with the abundance of savories, it is hard to decide on a style of Pinot most suited for the big feast. Castello di Amorosa Los Carneros Pinot Noir is on the lighter side of the Pinot Noir spectrum, perfect for turkey and all the trimmings. Seductive notes of mulled spice on the nose and a mouthful of bright fruit will complement the entire spectrum of Turkey Day dishes. To make this Pinot pop, serve at 62 to 65°F.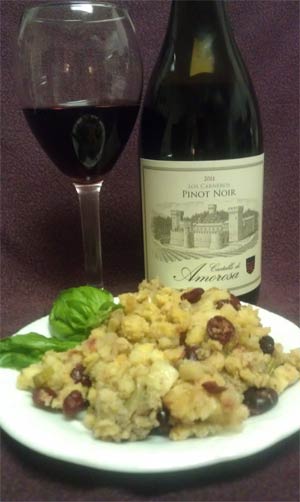 Happy Thanksgiving!