October 30th, 2014
Fall back
Shorter days have arrived; the vineyard's yellow tinged foliage marks the beginning of the end of another season. The grape vines now fall into a slumber until next spring when young buds will emerge and another harvest is in the making. Time marches on.
This Sunday clocks move forward one hour. Most people remember the changes with the catch phrase "spring forward, fall back," referring to the season when the changes take place. The U.S. government initially started Daylight Saving Time during World War I to save energy for wartime production. The federal government enacted Daylight Saving Time as a permanent change in 1966. In 2007, the time period was extended by four weeks as a means to save energy through longer daylight hours.
This means our days start and end earlier. Sunlight becomes a treat to be savored and quick night fall commands a need to bulk up– sweaters and jackets make their yearly trek to and from the dry-cleaners, extra blankets are on the bed and shopping lists reflect a need for substance.
I was feeling a bit chilled last night as it dipped down to the low 60's and I found no warming compassion from my Minnesota raised husband! As he was fixed on game 7 I put the finishing touches on a meal sure to warm us both. After a summer of imposed solitude and dormancy the oven was back in action, now generating welcome warmth and oozing with savory aromas permeating the house.
Game 7 ended with the Giants bringing it back by nabbing a 3rd World Series championship in 5 years!  We ended the evening with a great meal and a toast to the Giants, great champions and a beautiful fall. Without light there is no dark. Without cold, where lies the value of warmth? Without 'fall back' we would not 'spring forward'.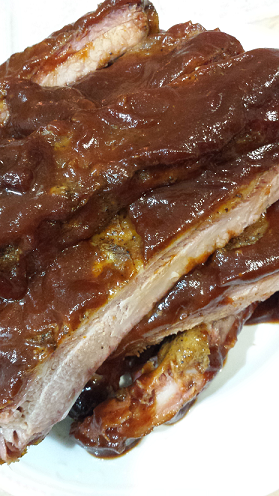 World Series 2014 took the bay area to Kansas City which made me crave BBQ. The sauces found in KC are tomato-based, with sweet, spicy and tangy flavor profiles. My store bought sauce was a tad too sweet so I stirred in a bit of mustard and a dash of red pepper flake.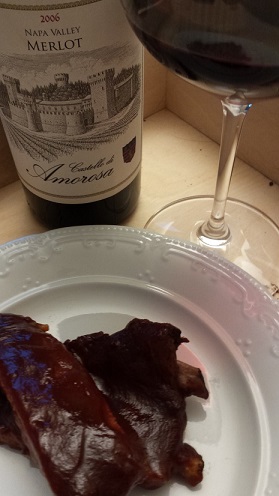 Fall back was perfect with yummy baby backs cooked low and slow paired with a real throw- back, one of my favorite wines produced at the Castello, 2006 Napa Valley Merlot. This Merlot was voted best of the vintage in Napa Valley and ageing perfectly. Secondary notes of dried herbs in the background but plush fruit and soft smoky plum up front, this is Merlot at its finest.