March 21st, 2013
Dario Sattui donates $1 Million to Boys & Girls Club of St. Helena and Calistoga
Dario Sattui, owner of V. Sattui Winery in St. Helena and Castello di Amorosa in Calistoga, has pledged $1 million to the Boys & Girls Clubs of St. Helena and Calistoga for its future construction of a permanent Club facility in Calistoga.
Listen to Dario's interview on KGO 810:
https://soundcloud.com/thecastello/dario-sattui-donates-one
"I am really proud to make this small contribution to the future of our community, and believe this will make a positive impact. Let's hope the Club can raise the rest of the money quickly and open the new Club, "said Sattui.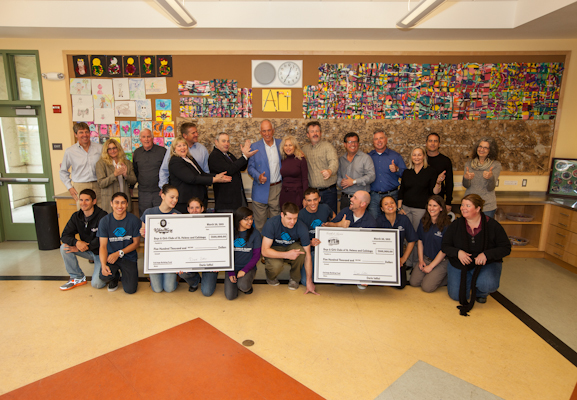 Dario Sattui with the Board of Directors and Staff of the Boys and Girls Club of St. Helena and Calistoga
"This is a landmark moment for our organization," commented Club Executive Director Jay Templeton. "Mr. Sattui's magnificent lead gift provides us the framework to begin focused discussions of our Calistoga project. The Boys & Girls Clubs and Mr. Sattui share the same values of respect for the environment, and the importance of agriculture, nutrition, exercise, academics, entrepreneurship, technology skills and guidance in preparing today's youth to be productive 21st century citizens."
Currently the Boys & Girls Clubs of St. Helena and Calistoga operates an after-school program located at the Calistoga Elementary School on Berry Street. In 2012, registered youth membership at that site was 395 with an average daily attendance of 129. The Club also operates a Teen Center located in the city's Monhoff Center on Grant Street adjacent to the Calistoga Junior-Senior High School.
"For some time, the Board of Directors has discussed a Calistoga project," said Templeton. "Our St. Helena facility was opened in January of 2008 following a successful capital campaign. The next vision has been to establish a permanent facility in Calistoga through community fundraising."
On April 26th, the Board of Directors will hold a Board retreat specifically to discuss the Club's Calistoga future, including discussions on a potential location, cost, size, fundraising and timing. "We hope to come out of that day with basic direction and to set the course for a new Boys & Girls Club building in Calistoga," remarked Templeton.
Sattui will attend the Club's Board of Directors meeting at noon on March 20th to present two $500,000 checks. Each of his local businesses, V. Sattui Winery and Castello di Amorosa are contributing jointly.
The Sattui donation is the second lead gift received for the future Calistoga project. In November of 2012, the DeLong-Sweet Family Foundation made the first contribution, a $250,000 pledge arranged by Calistoga residents Paul and Pamela Ingalls. The Boys & Girls Club hopes these early donations are an indication of the support it will have and need in order to complete the Calistoga capital campaign and the construction project.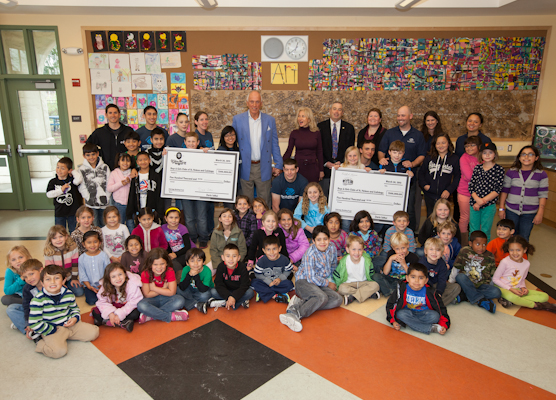 The children of the Boys and Girls Club of St. Helena and Calistoga with Dario Sattui and staff.
Noted Board of Directors President, Kathleen Herdell, "We are thrilled by the generosity of Dario, Paul and Pamela. Their contributions will touch the lives of Up-Valley children for generations to come. 'Thank you' just doesn't adequately capture the gratitude we feel for these visionaries and role models. They are helping to give the kids a safe and positive place to be after school and all summer long. Having watched the excited faces of kids as they enter the St. Helena Clubhouse, I can't wait to give the Calistoga children that same experience."