March 15th, 2013
A chill in the air
This is the time of year when winemakers and vineyard managers start paying close attention to weather patterns. Although long periods of extreme cold and sub-freezing temperatures can always cause distress in a vineyard; frost is particularly damaging in the early spring. Once bud break occurs, spring frosts can kill the young shoots potentially destroying a crop. If you visit wine country in early spring you may spot a few different methods utilized by vintners in attempts to combat frost damage. Most preventative measures are expensive and vary in effectiveness, but, the financial loss of frost damage is extreme.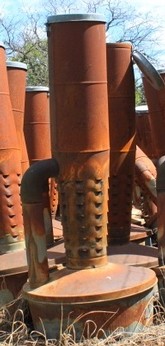 The least utilized and possibly least effective is burning oil in a smudge pot. The smoke and heat generated is hopefully carried over the vineyard by the wind forming a warmer protective blanket. As the heavier cold air sinks, the warm blanket of air protects the shoots.
A solution that seems just as drastic but that has actually proven viable in some vineyard locales; spraying the vines with a fine mist of water. As the water freezes it forms a protective layer of ice insulating the young shoots by trapping the heat, (think of an igloo or an ice cave). Since Napa Valley's Mediterranean climate doesn't generally dip below 25 degrees Fahrenheit, this method shows promise as it is environmentally less invasive and more economically viable. A negative for using water is fairly obvious but worth noting: you are using water, which can be scarce or completely unavailable in remote vineyards.
The most common and visually the most obvious method in use can be viewed off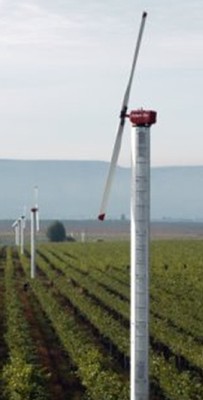 Highway 29 and along the Silverado Trail. What looks like windmills are actually wind machines, which move air over vineyards to keep the coldest air from settling on vulnerable, young shoots. The heavier cold air mixes with the warmer air, being moved by the wind machine, creating a slight elevation in temperature which is often just enough to ward off frost as long as that temperature is above 28 degrees Fahrenheit. However, I live close to one such wind machine and I see it as only partially effective. While it prevents frost from developing in areas directly in the path of said turbulence, my personal observation is the outlying areas are often blanketed with frost. Another fact to consider…..wind machines are essentially propellers that run on fuel so they can be expensive to run and the noise level can be extreme – especially in the wee hours of the morning when they are typically used. *yawn*
Does a foolproof solution exist? Well, if you have an opportunity when driving in the valley, look to the hills. It is rare to find any method of frost control on sloped vineyard sites.  Dense cold air naturally drains off the hillsides and settles onto the valley floor quite often rendering the hillsides unaffected by frost.
In this north end of the Napa Valley we are fortunate. With the Mayacamas Mountains to the West and the Vaca Mountains to the East, some of the most prestigious viticultural land in the world has been created. Castello di Amorosa's Il Barone and La Castellana wines are crafted from Cabernet Sauvignon vineyards on Diamond Mountain, part of the famed Mayacamas range; above the fog line, drenched in sunshine and relatively unharmed by frost.
As we continue to progress in viticulture methodology one fact holds true – Mother Nature will always have the final word.
And with that my final word – Cheers!
Mary Davidek C.S., C.S.W.