January 21st, 2015
Winter White
While most of us have a go-to favorite wine taking permanent tenancy in the 'most preferred' zone, often we explore other varietals– particularly when entertaining or in my case, looking for the just-right pairing. Entertaining and pleasing guests with diverse palates, seasonal influences, even extreme weather can bring wine-drinking-enjoying challenges. When it is 100 degrees and the mercury is soaring it can be a test to feign enthusiasm about a glass of inky rich Cabernet for the thick Porterhouse grilling on the 'cue. Likewise, when you spy frost on the pavement and the windshield is icy, a chilled crisp white wine may be less than heart-warming. What to do when some of the satisfying hearty wintertime favorites are rich and creamy and just screaming for…. well….not a red wine.
My winter white is chardonnay. Specifically, Castello di Amorosa Bien Nacido Vineyards Chardonnay. This is not the 'Castello sommelier' pontificating on the many virtues of this award winning chardonnay, this is me, the 'wine drinker' who is generally not excited about most California chard.
Castello's Bien Nacido Chardonnay is different—this fruit is exceptional. The vineyard is located on the central coast of California and exposed to the Pacific. The coastal morning fog provides cool temperatures early in the day but warm late afternoons drenched in the Pacific sun. This gives the slow ripening grapes longer hang time on the vines while enjoying the real estate and the luxurious coastal influence. The juice shows its mettle when barrel fermented but not over manipulated so the gorgeous bright backbone of zippy acidity shines through. This balanced chard displays a soft nuttiness with fruit and focus. Juicy Comice pear, white peach and light vanilla flavors; full bodied and rounded–perfect for the rich creamy cold-weather foods we crave.
While winter white may not conjure up warm cozy images outside–
when you are inside, winter white can be an absolute delight!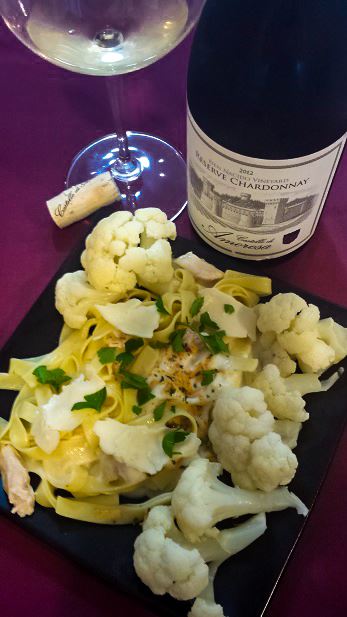 Quick and Easy Chicken Fettuccine Alfredo
♦ ½ lb.  fettuccine, uncooked
♦ 1lb.  boneless skinless chicken breasts, cut into strips
♦ 4tsp.  flour
♦ 1-1/4cups  chicken broth
♦ 4oz.  Mascarpone ( sub cream cheese)
♦ 1/2 cup Grated Parm, divided
♦ ¼ tsp.  garlic powder
♦ 1/4tsp. white pepper
Cook pasta to slightly firm. Sautée chicken in large nonstick skillet on medium-high heat 5 to 7 min. or until done, stirring occasionally. Remove from skillet. Mix flour and broth in same skillet with whisk. Stir in Mascarpone, 2 Tbsp. Parm, garlic powder and pepper; cook 2 min. or until mixture boils and thickens, stirring constantly. Stir in chicken. Drain pasta; place in large bowl. Add chicken mixture; toss to coat. Sprinkle with remaining Parm.