August 28th, 2015
TGI Frittata: How to Make a Frittata (Italian-Style Omelet)
I was raised in a large and lively household. With 2 parents, 4 of us kids along with 1 grandparent, my mother was faced with the daunting challenge every week to procure economical yet delicious ways to feed our sometimes demanding and always hungry mob. Schedules were constantly changing, I had piano lessons and swimming, and my brothers balanced after-school jobs and sports. In the summer, Dad often worked late. This meant not only did food have to be delicious and economical, but had to be just as good and easily re-heated to accommodate our unpredictable schedules.
Sunday night pasta was a regular on our menu. Essentially leftover tidbits from the week slow-cooked in a rich tomato sauce and served over pasta, a good way to start a busy week. Soups were another yummy option and minestrone often filled the pot. Basic minestrone was a smart use of left-over roast beef with an assortment of veggies and pasta. Frittata was a popular catch-all in our house and seemed to be a Friday night staple. The saying became TGIFrittata!
Frittata is a flat Italian-style omelet that's usually prepared in a cast-iron skillet. A Frittata can be made with an assortment of ingredients; mushrooms, broccoli, cauliflower, or zucchini. For a heartier main course preparation, ground sausage, bacon or potatoes can be included. To make a frittata, beaten eggs are cooked briefly in a hot skillet along with other ingredients like onions, spinach, bacon, and/or potatoes, and then topped with cheese and finished in the oven.
The Castello provided the bounty for this frittata. The royal chickens supplied the organic free-range eggs. From the castle garden; zucchini, red and yellow pepper, and serrano chili peppers.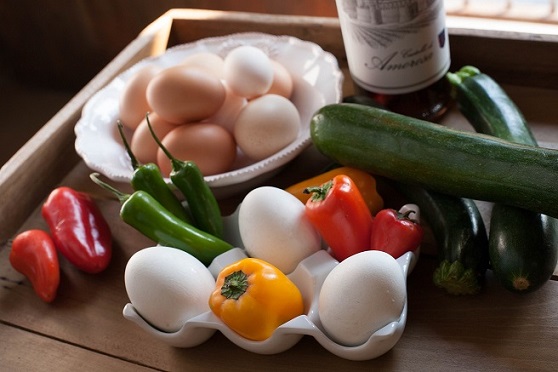 The kick of spice made the wine selection for this brunch easy—Gioia, a dry and fruity rosé of Sangiovese.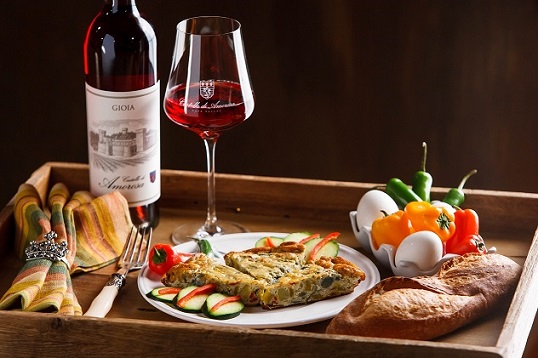 When cooked in a round skillet, frittata is traditionally sliced into wedge-shaped portions for serving. And re-heated…it was just as yummy as it was just out of the oven.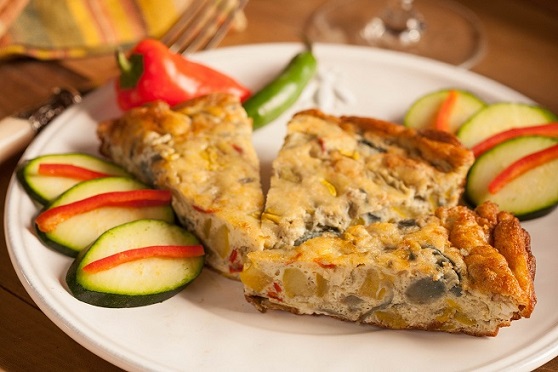 Frittata
♦ In a medium-sized bowl, using a fork, blend 4 – 6 eggs, grated Parmesan, 1/2 tsp pepper, and 1/4 tsp salt.
♦ Heat a 12-inch non-stick, oven safe saute pan over medium-high heat.
♦ Add butter to the pan and melt. Add frittata contents. Pour the egg mixture into the pan and stir with a rubber spatula.
♦ Cook for 4 to 5 minutes or until the egg mixture has set on the bottom and begins to set up on top.
♦ Sprinkle with parsley and additional grated parm.
♦ Place pan into the oven and broil for 3 to 4 minutes, until lightly browned and fluffy.
Mary Davidek C. S., S.W.