My Beef with Vegetables
When pairing wine and food, while vegetables are certainly a seasonal selection; wine and vegetables rarely makes a reasonable connection. When it comes to compatibility, wine and veggies make for a challenging relationship. However, with a little pairing intervention, we can salvage this savory dilemma.
First, let's discuss the easy ones; mushrooms, potatoes and eggplant. Denser, heavier and earthier vegetables often used in heartier dishes. Think of the earthy quality of Pinot Noir to pair with these meaty veggies. A hearty mushroom like Portobello can even take on Bordeaux varietals like Merlot and Cabernet Sauvignon.
With green vegetables, play off the green flavors of these veggies by grilling and topping with a balsamic glaze. For richness add a cream sauce or cheese (there, I finally said it…you've been waiting for it!). These green flavors work well with Pinot Bianco or Pinot Grigio which often have notes of green fruit and provide a less aggressive palate then grassy and citrusy Sauvignon Blanc.
Asparagus and Artichokes. These delicious little buggers get their own space as they are notoriously difficult to pair with wine. This is due to cynarin. Cynarin is a phenolic acid compound found in the green leaves and seeds of artichokes and asparagus which gives a sweet flavor to these yummy vegetables. However, it can be challenging to complement these notes with wine because the sweetness is not from actual sugars and it makes most wines, even those with low levels of residual sugar, taste bitter. A sure way to contrast these flavors is with spicy aioli, a creamy dip, or a rich sauce. For wine, try an Austrian, Gruner Veltiner. Don't underestimate this peppery white, Gruners are not to be taken lightly. This polished Austrian has attitude to spare and can finesse the most fickle flavors–even artichokes and asparagus.
If the addition of sauce, cheese, and cream is not an option as it can defeat the benevolent intentions of serving and eating vegetables, fear not, I have a sure fire way to make veggies almost wine-friendly; meat. Therein lies my beef with vegetables.
Merlot Beef with Broccoli
1 1/2 tablespoons cornstarch
1/4 teaspoon salt
1/4 teaspoon black pepper
3/4 pound sirloin beef tips, sliced against the grain 1/8 inch thick
3 tablespoons grapeseed oil
10 ounces broccoli florets
3 garlic cloves, chopped
3 tablespoons soy sauce
1/2 cup Merlot (approximately 4 ounces)
Toss together cornstarch, salt, pepper, and beef in a bowl until meat is coated. Heat 2 tablespoons oil in wok or sauté pan over medium high heat until hot but not smoking, stir-fry beef until just cooked through, approx. 1 minute. With a slotted spoon, transfer beef to another bowl and keep warm. Add remaining oil to sauté pan along with broccoli and garlic. Stir-fry until broccoli is just tender and garlic is pale golden, about 2 minutes. Add soy sauce and wine and bring to a low boil. Return meat to skillet. Stir until sauce is thickened.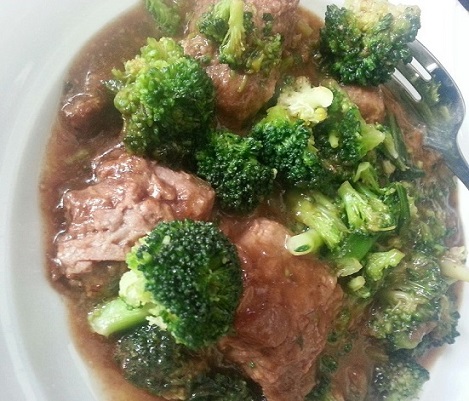 I know; adding bacon is not playing fair but…absolutely delicious!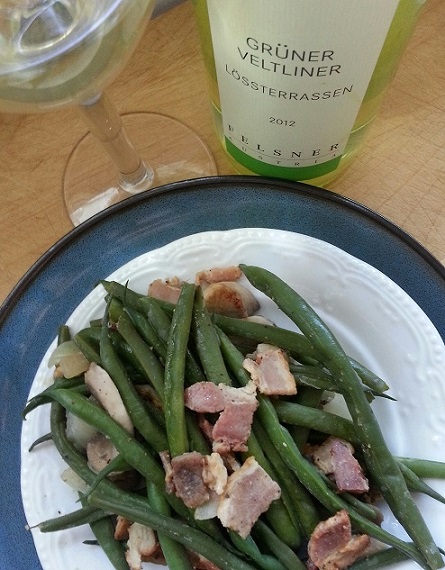 A little food and wine levity. When all else fails…..go back to the basics!