July 28th, 2016
La Fantasia Summer – Chilled Rosé Wine Drink Recipe
I hate the heat. I do. I cannot mince words or flower this up— at all. I also acknowledge as a native Californian I am not the greatest barometer for uncomfortable temperatures. I am too hot when temps soar above 90 and too cold when the mercury dips below 60. I guess as grapes are concerned, I would be Pinot Noir; a little fickle and I respond to temperature extremes. Precisely why Pinot Noir is not prolific in Napa Valley. …summers can get hot!
Napa Valley is a Mediterranean climate which among other climate indicators translates to a long growing season due an optimum diurnal variation necessary for yielding successful wine grapes. A diurnal variation, or the difference between daytime and night time temps of almost 35 degrees means the sugars in the grape go into semi hibernation in the evenings thus arresting or slowing the ripening process. Even when the valley floor reaches 95 degrees, nighttime ushers in a welcome cool down courtesy of the big air conditioning to the west, the Pacific Ocean. Most evenings warrant a wrap or light sweater when dining al fresco or while watching star-filled nights unfold.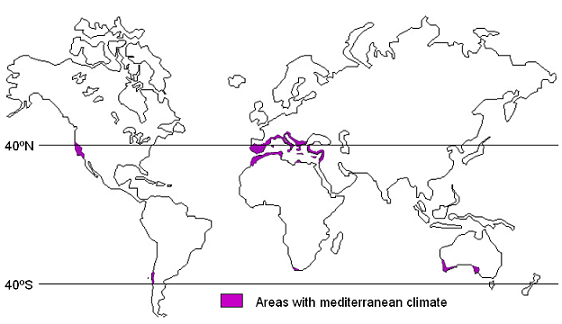 Lucky Napa Valley! Less than 5% of earth's land surface is blessed with this amazing mediterranean climate!
These evening temps are a welcome reprieve but I just can't get past the heat and the constant craving for something cool and refreshing on my palate. My shopping cart at the grocery store has been jam-packed with fresh summer fruit, thirst quenching beverages and frozen treats. Luckily, our appetites also diminish a bit when the temps soar so refreshing fruit and veggie platters have been consumed with enthusiasm. Dessert? Well, that is simply a no-brainer—enter the simple and delicious Fantatini! A deliciously refreshing and chilled summer rosé wine drink. Made with lightly effervescent and slightly sweet La Fantasia. Simply pour over a frozen fruit sorbet and this yummy chilled finale is the perfect respite.
So chill it down…and when old man winter brings on the big chill-down (it may actually get below 60!), we will have to come up with another excuse to partake in this tasty concoction.
Frizzante-style La Fantasia is a proprietary blend of red grapes and is a perennial favorite. Just a bit of effervescence brightens the fruit notes of this lightly sweet wine.
A sweet finale on the Castello di Amorosa Royal Pairing, the Fantatini. Recipe?… Simple. Scoop and pour!
---