January 31st, 2013
Is Bigger Always Better?
Big juicy burgers.  Big healthy baby.  Big hotel suite.  Big expense account.  Mr. Big.  But big wine?  In our super-sized reality is big always better?
Since big is often a matter of perspective and can be vague in usage, to better understand big as it relates to wine we need to go to the source; to the vineyard.  In wine, the meaning of big is typically synonymous with Cabernet Sauvignon grown in the Napa Valley.  Since Napa is home to some of the most expensive agricultural land in the United States it is understandable how big enters the picture.  Cabernet grown in this lush valley thrives.  Upon examination this petite powerhouse of a grape resembles a small dark blueberry more than a familiar table grape.  As a matter of fact, all grapes are called berries.  Cabernet berries are tightly clustered and the skin is thick and darkly pigmented.  But this power is not just skin deep.  With the largest seed mass of any black grape, the tannin to juice ratio is only one factor when defining big – as there is nothing passive about this aggressive little berry.  However, it is all part of the big reveal.  We must look to the winemaking team and the philosophy espoused by each winery and the fruits of their labor for ourselves.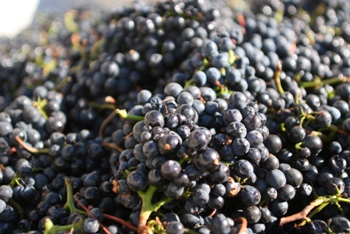 Since I do not drink wine that assaults my palate, when drinking Cabernet I seek out plush, velvety and elegantly styled wines.  Some critics may argue this type of cabernet disappeared with payphones and library cards.  I disagree.  Classically styled Cabernet, while not prolific, is available.
Under the direction of Dario Sattui, one of Napa Valley's biggest success stories, the winemaking team at Castello di Amorosa strives to produce wines with sophistication.  Executive winemaker Brooks Painter utilizes "tannin control" techniques from vineyard to production.  The result is palpable.
In the vineyard, Castello's Cabernet is picked at 25 degrees brix (sugar level).  But aside from sugars, Brooks and his team monitor the maturity of the tannins by tasting the fruit from each vineyard block as harvest approaches.  Once the juice is in the tank the cap of solids (skins and seeds) is reintroduced to the juice via punchdown or gentle pump-over to limit the over-stimulation of phenolics (natural organic  compounds in the juice).
But regardless of the winemaking philosophy or the vineyard geography, the real test is largely subjective and that individual perception or preference is ultimately the biggest player in the equation.  The big reveal is how you perceive the wine you are drinking. Thus the debate on big wine continues.
When does size matter?  There is one point on which we can all agree…….
A big glass of wine is always better.
Cheers!
Mary Davidek, C.S., C.S.W.