December 2nd, 2014
Five Easy Pieces
This is an extremely busy time of the year and I don't see a clear window of nothing-much-going-on until 2015 (yikes)! Aside from standard work activity along with not so standard work activity (see link below), November brought birthdays (including mine!), weddings, anniversaries, and, of course, the big one–Thanksgiving. Factor in necessary travel and shopping for these celebrations and it adds up to 'I don't have time to insert activity here'.
This is also the season for parties and entertaining; from the office to the dining room holiday festivities are everywhere. Some of this merrymaking is planned but others are more…well… impromptu. While pop-up happenings are intended in the spirit of cheerful tidings these bombshells… er, I mean pleasant surprises.. can be stressful and hectic. To facilitate the fun and merriment while reducing the stress, keeping just a few indispensable items in the fridge and pantry make last minute entertaining truly entertaining. I keep an arsenal of all 'the fixings' on hand throughout the holiday season. When these easy apps are paired with the right wine you are transformed into an accomplished and relaxed holiday-entertaining pro.
I call these go-to bite-sized nibbles 'Five Easy Pieces'.
Check out the provided link for a 30 minute interview about the Castello and the food and wine program; 'The Royal Pairing'. This was a fun radio segment on CRN Digital talk radio. You can listen to my interview here.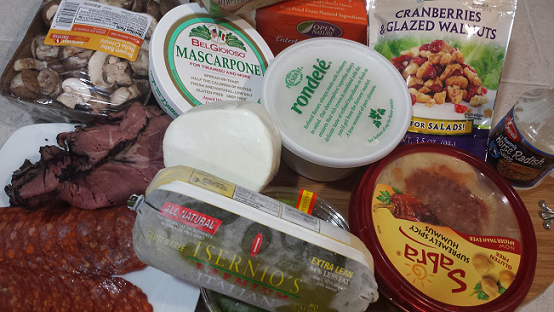 The ammo; hummus, pesto, mascarpone, goat cheese, mushrooms, ground sausage, dried fruit and nuts, deli roast, sliced chorizo, baguette, crackers, creamy horseradish sauce. These items have a long shelf life and perfect to keep on hand.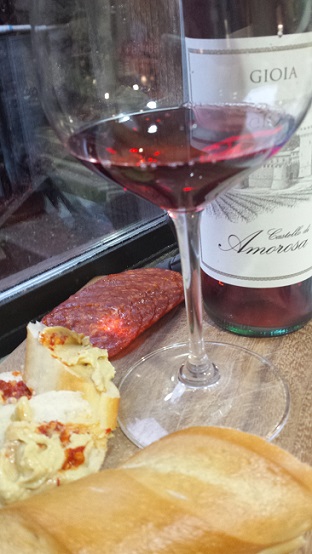 Serve roasted red pepper hummus with a chilled glass of Castello's Rosato de Sangiovese, Gioia.
Now that is what I call a joyful tiding!
As long as the Gioia is chilled serve a sliced baguette with a light spread of mascarpone topped with chorizo. A spicy bite for sure but so delicious with this bright and sassy rosé.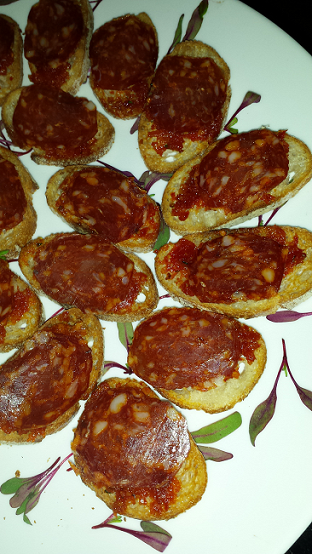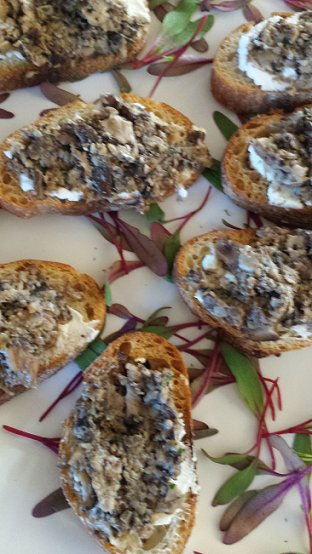 For this topper I browned sausage and then added sauteed finely chopped mushrooms sauteed in butter. To the final mixture add a couple generous tablespoons of chopped nuts and cranberries and brown a bit more. Served on crostini this tasty bite almost mimics a deconstructed holiday stuffing.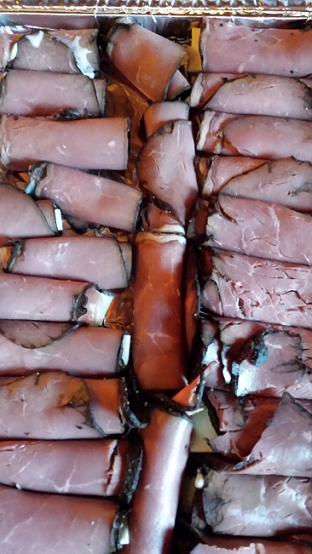 This is a crowd pleaser, even if it is a small crowd! I rolled deli roast beef around a sprinkle of shredded mozzarella and a generous smear of creamy horseradish. Heat in the oven until the cheese is melted. Delish with a full-bodied red blend like the Il Brigante.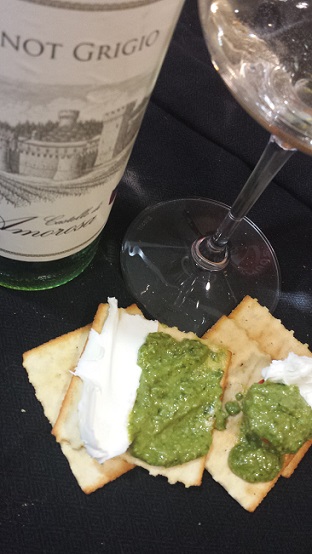 If you have ever tasted with me at the Castello on the Royal Food and Wine Pairing you know how delicious a cracker with pesto and goat cheese can be. The Castello's Pinot Grigio is bright, succulent and juicy; a perfect yet simple mouth-watering duo.
And…..you're welcome!