May 4th, 2015
Cinco De Mayo Meets Cinque di Maggio
Cinco de Mayo, like St Patrick's Day are regional celebrations that do not limit participation based on heritage or ethnicity. Across the United States every 5th of May brings colorful festivities and parties filled with fruity margarita concoctions, icy cold cerveza and tasty foods from south of the border. I was raised in a heavily Mexican-American influenced area of Southern California and well, let's just say I know my around a carniceria. Carne means meat so technically a carniceria is a meat market but used as a word for a neighborhood market with a meat counter, fresh produce and other grocery items. Cinco de Mayo meant we were heading to our friend's home for an evening of delicious food, fun and drink…. but first a stop at the carniceria. I can still smell the smoky aroma of grilled Carne Asada and the sweet spice of the marinated carnitas wafting from the busy market. Orders were made early as this was a big day, regardless of a school night or weekend Cinco de Mayo does not wait for Seis de Mayo.
As I have mentioned I am of Irish-Italian heritage and while Mom's pale Irish skin and grey-green eyes stuck out in the olive-skinned mix, her tortilla making skills were top notch! Freshly-made hot tortillas could "melt the ice-cold heart of any poor sot" mom would say and she was so right…warm to the touch and impossible to resist; zesty salsa fresca, chips and guacamole, charred and smoky barbacoa tacos, fragrant and spicy chile verde, all so mouth-watering and intoxicating.
For bebidas (drinks!) at some time during the party they would put the margarita salt aside and set the beer on ice as the southern Italian in my dad needed to have a bit of vino with every meal regardless of the occasion and Cinco de Mayo was no exception.
Just a few of the favorites….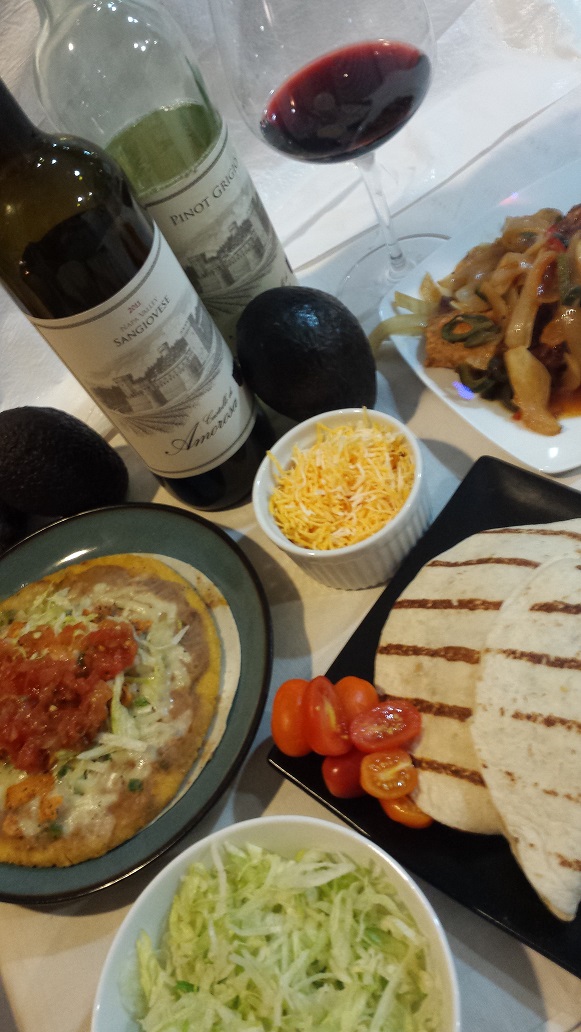 Italian Varietals like Pinot Grigio and Sangiovese offer juicy fruit and natural acidity which are simpatico with these big latino flavors.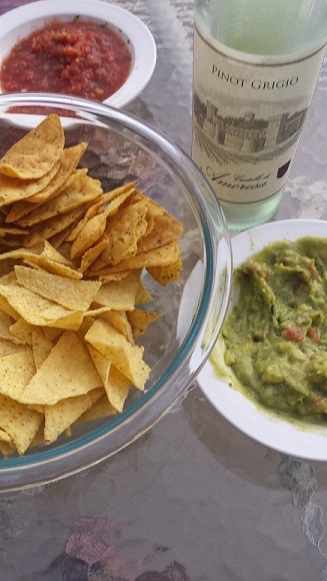 The Best Guacamole!
Although avocados have natural oils, the addition of olive oil adds a textural emulsification that takes guacamole to the next level. Of course, olive oil or garlic had to eventually enter this equation somehow!
Combine:
♦ 2 large ripe Haas avocados (just slightly soft to the touch)
♦ ½ small lemon, juiced
♦ 1 small roma tomato diced
♦ 1 cup finely chopped cilantro
♦ 2 tablespoons finely chopped onion
♦ ½  Tbsp. salt
♦ 2 Tbsp. olive oil